Commercial electronic messaging in New Zealand
Compliant Electronic Marketing: A guide for NZ businesses
This comprehensive booklet provides in-depth information and useful examples of compliant electronic marketing practices.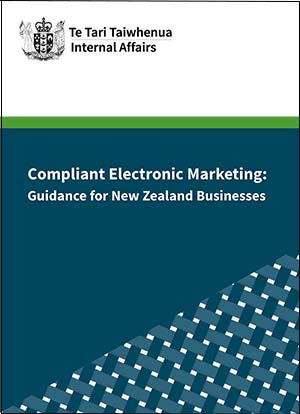 Booklet: Compliant Electronic Marketing: A guide for NZ businesses PDF, 8 pages, 2.2MB*
Fact Sheet: Simple Steps to Compliant Electronic Marketing
A 2-page fact sheet providing an overview of the key components of the Act you need to be aware of.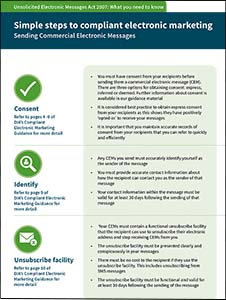 Fact Sheet: Simple Steps to Compliant Electronic MarketingPDF, 2 pages, 1.8MB*
Commercial electronic messaging in New Zealand
Read this information in the following languages:
Anyone sending commercial electronic messages needs to follow the Unsolicited Electronic Messages Act 2007.
This law applies to:
Electronic messages: email, text messages (SMS), instant messages, and facsimile messages (faxes) that are
Commercial: promoting a product, service, business or investment opportunity.
This law says that when you send a commercial electronic message:
The person receiving it must agree to receive your messages.
You need to clearly and accurately say who you are as the sender.
There must be a clear and easy way for the person receiving your commercial electronic messages to unsubscribe or stop receiving them.
The law also says that you cannot use software to collect addresses to send commercial electronic messages that people did not agree to receive.
For any questions please send an email to: info@antispam.govt.nz