Rules for operating vessels
Important information for anyone operating boats or jet skis/personal watercraft (PWC).
Ten golden rules
Watch the weather
Don't overload
Carry full equipment, warm clothing
Wear tested lifejackets - a life jacket for every person on board is compulsory
Ensure your engine is reliable
Know the Collision Rules, the Water Recreation Regulations, the Lake Taupō Regulations and the Distress Signals
Guard against fire
Don't mix drinking and boating
Carry reserve fuel
Tell someone where you are going.
Navigational charts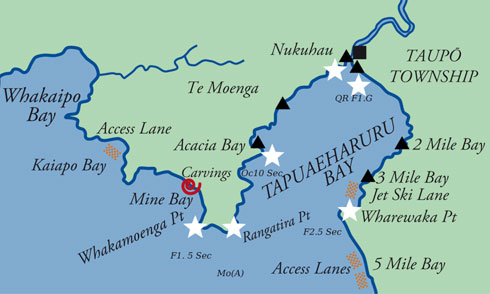 Navigational charts can be purchased from the Harbourmaster's Office.
Charts are $25.00 each and two sizes are available.
There is also a chart of Lake Taupō (not to be used as a navigational chart) on the back of the Safe Boating on Taupō Moana brochure.
Boat speeds and wake
The speed limit is five knots within 200 metres of the shore or structures (such as wharves), and five knots within 50 metres of any other vessel, but special restrictions apply at:
the Waikato River from the red-green entry beacons - three knots maximum
the Kinloch marina entrance, two knots maximum.
Red-and-white striped buoys have been introduced to show 200 metres from shore.
Speed of small craft
No person shall propel or navigate a small craft at a proper speed exceeding 5 knots:
within 50 metres of another vessel, raft or person in the water; or
within 200 metres of the shore or of any structure; or
within 200 metres of any vessel or raft that is flying flag A of the International Code of Signals (dive flag).
No person may propel or navigate a vessel at a proper speed exceeding 5 knots while any person has any portion of his or her body extending over the forepart, bow or side of that vessel.
Extracts from the Lake Taupō Navigation Safety Bylaw 2017.
Wake of vessels
Every person who propels or navigates a vessel must ensure that its wake does not cause unnecessary danger or risk of damage to other vessels, persons or structures.
Lifejackets (PFDs)
It is mandatory to have a correctly fitting lifejacket (Personal Flotation Device or PFD) for every person on board every boat. Correctly fitting lifejackets (PFDs) MUST BE WORN in all vessels 6m or less in length over all (LOA), whilst 'making way'.
Buoys: 200m from shore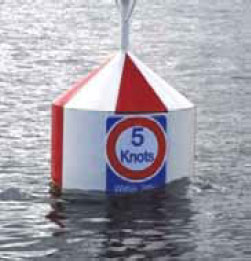 Red and white striped buoys are placed in a number of locations to show skippers 200 metres from shore.
Note 5 knots within 200 metres of the shore rule applies to all of the Lake Taupō shoreline including rivers unless otherwise stated (access lanes etc).
More useful information about buoys can be found on the Maritime New Zealand website.
Minimum age of operators
No person who is under the age of 15 years shall propel or navigate a motor craft that is capable of a proper speed exceeding 10 knots.
Information to display on vessels
Naming of vessels
Powerboats 4m and over, and non-powered boats 6m and over must display a name or similar identifying mark:
on both sides of the hull
above the waterline
It must be clearly legible, and all characters at least 90mm in height. This cannot be the vessel's brand/make/model.
All vessels less than six metres
Emergency contacts on vessels
You must have emergency contact details, including your name and phone number somewhere on or in the vessel which is clearly visible.
Options for providing these details are:
use a waterproof marker
write on waterproof tape
laminate a card and attach it to your vessel
waterproof paint
waterproof stick on labels
Personal water craft/jet ski
Personal floatation devices (Life Jackets) must be worn when operating jet skis.
Observer rule applies to all water craft when towing. (You must have an observer who is not under the age of ten years watching the person who is being towed).
Registration
All personal water craft (PWC)/jet skis used in the waters of the Lake must be registered with a regional council that registers PWC (e.g. Waikato).
This is a requirement under the Lake Taupo Navigation Safety Bylaw 2017.
You can register your PWC/jet ski online at the Waikato Regional Council website: www.waikatoregion.govt.nz/jetskis and follow the instructions. It is quick and easy, and is only a one-off fee for the life of the jet ski; so get online and get registered!
If you have registered online you can also transfer ownership online. There is no charge to do this. If you have not registered your PWC online a manual transfer request will need to be completed, downloadable from www.waikatoregion.govt.nz/jetskis (Please make sure to read the rules around PWC registration prior to registering).
The registration fee is a one off payment of $35.00.
If you require a numbered sticker for your PWC/jet ski there will be an additional cost of $15.00, otherwise you will be issued a number that you will be required to display on your vessel (specifications below).
Numbers must be at least 90mm in height
Numbers must be clearly legible
Numbers must be displayed on both sides of the vessel above the waterline
If you have an official NZJSBA allocated race number this may be used as your registration number.
Ski and tow areas
Access lane markings

Access lanes enable vessels involved in towing to legally leave or approach the shore at speeds in excess of 5 knots.
Direction of travel is anti-clockwise. All access lane buoys are coloured orange and black.
You must:
Keep to the right in the lanes.
Enter and leave at right angles to the shore.
Have an observer who is not under the age of 10 years to report every mishap that occurs to the person and/or object that is being towed.
Not proceed in a manner dangerous to other persons or vessels in the lane.
Not beach your boat in the lane.
Not use lane for any other purposes.
No person may operate between sunset and sunrise.
Wear a life jacket when being towed.
Location of access lanes
Five Mile Bay
Hallets Bay
Motutere Bay
Mission Bay
Stump Bay
Waihi Bay
Kuratau
Whareroa
Waihora Bay
Kawakawa
Kinloch (Whangamata Bay)
Kaiapo Bay