Boat ramps
Ramp permits
A ramp permit is needed to use the Department of Internal Affairs' ramp facilities.
Permits are available in hardcopy from many agents around the lake, or use our online service ePermit.
An instant fine of NZ$200.00 will be imposed for using a ramp without first getting a permit.
Kinloch Marina is a privately owned marina and has a separate ramp permit.
For a list of Ramp Permit Prices, see: Fees for boating facilities
ePermit
Our online boat ramp permit purchasing solution
Purchase a 24-hour, 2 to 6 consecutive days, 2-week or 12-month permit, pay online, receive a digital image permit to your email – done! No need for printing, as long as you can produce the permit on your phone or tablet when asked prior to launching.
Search online for 'Ramp Permit Taupō' or simply visit ramp-permit-taupo.dia.govt.nz by clicking on the icon below.
A friendly reminder that there is zero tolerance if you are unable to produce a valid ramp permit when using an Internal Affairs Lake Taupō boat ramp.
Hardcopy permits can still be purchased from a number of agents around Lake Taupō (see information below).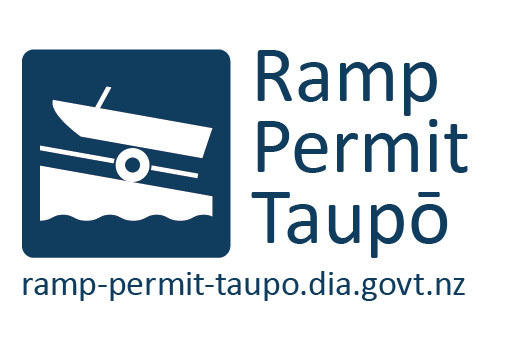 Ramp permit agents
Taupō area
| Agent name | Location |
| --- | --- |
| Acacia Bay Store | |
| BP Tauhara | |
| BP Connect Taupo | |
| Lake Fun | |
| Fish Cruise Lake Taupo | |
| Hunting & Fishing New Zealand Taupo, Fly & Gun | |
| Trev Terry Marine | |
| Taupo i-SITE Visitor Information Centre | |
| Lakeland Marine | |
| Mobil Tongariro Street | |
| Mobil Junction | |
| Richmond Superette | |
Southern Lake Taupō area
Ramp use etiquette
Commonsense preparation procedures prevent unnecessary congestion and personal stress at ramps. Ensure you:
Have your boat prepared prior to joining the queue. For example: bung in place, tie-downs removed, all personal gear (including lunch and warm clothing) on board, outboard support bracket and tow flag removed, etc.
While reversing down the ramp, have a person walking beside the vehicle holding the painter (bow line) prepared to push-off the boat from the trailer. Then, move the boat to the jetty. If necessary, this person will walk the boat around the offside of the jetty thereby clearing the ramp area.
The driver then parks the vehicle and trailer and returns to the boat, now ready to go.
On return to the ramp from the day's outing on the lake, approach the jetty or beach. If possible drop-off a person to retrieve the vehicle and trailer. Back the boat away into the lake. Wait for your trailer to be positioned on the ramp.
After loading onto the trailer, drive away from the ramp to prepare for departure.
Following these procedures will speed up launching and retrieving thereby ensuring a smooth traffic flow. Finally, (to avoid delays) display your ramp permit on your boat.
Location of boat ramps
For more information see: http://www.coastguardlaketaupo.nz/about/lake-taupo-boat-ramps/
Acacia Bay South
Te Moenga Bay
Nukuhau
Taupō Boat Harbour
Two Mile Bay
Three Mile Bay
Motutere
Mission Point
Oruatua
Motuoapa (x3)
Tokaanu (x2)
Pukawa
Omori
Kuratau
Whareroa
Kinloch (private)