Public Sector Finance Graduate Programme

Have you thought about a career in Government?
Because you should!
Our government is made up of a wide range of diverse and passionate people who all care deeply about making a real difference in our communities and New Zealand. Do you want to…
build your accounting career?
try a range of roles before you decide?
make a real difference for your community and New Zealand?
If you're nodding your head to any of these questions, the Public Sector Finance Graduate Programme is for you!
The Programme is all about kickstarting your accounting and finance career in the public sector.
Over three years, you'll gain experience and exposure in a wide range of finance and accounting roles across several government agencies.
Every graduate's experience is different, and the Public Sector Finance Programme is designed to give you a variety of options and pathways to explore.
Not only will you participate in fascinating projects that make a real difference for New Zealanders, but you'll also work towards a professional accounting qualification with Certified Practising Accountancy (CPA) Australia or Chartered Accountants Australia New Zealand (CA CANZ). We'll fund your course fees, membership fees, and offer paid study leave.
Surrounded by a network of passionate mentors, graduates and alumni, you'll be supported to achieve your goals and build your confidence. While developing your finance and leadership skills, you'll be helping to provide trusted advice that makes a difference for all of New Zealand, from Parliament to individual Kiwis.

How the programme works
Te Tari Taiwhenua, Department of Internal Affairs lead the programme.
Across three years you will have four 6-month rotations and one 12-month placement.
You will have the opportunity to rotate through a range of different government agencies that the programme is partnered with, providing you experience and exposure in different accounting and finance roles. Training and development opportunities are provided to support your development.
Your journey will be fully supported by the programme, your mentor and your graduate network.

Partnered agencies
We partner with a growing volume of government agencies to offer you rotations and placements. Some of the government agencies you could work in include:
What we're looking for
We are committed to a workplace culture that embraces diversity in all its forms and enables all our people to have a voice and feel included. Our people bring unique skill sets, diverse thinking and new perspectives that we draw on to make New Zealand even better.
We're looking for graduates who are….
Passionate about helping make New Zealand a better place
Wanting to achieve their Chartered Accountancy (CA ANZ) or Certified Practising Accountancy (CPA) qualifications
Curious and eager to learn
Self-motivated to succeed
Show leadership potential
Work well in a team
Effective communicators and critical thinkers
Interested in the 'why' behind the numbers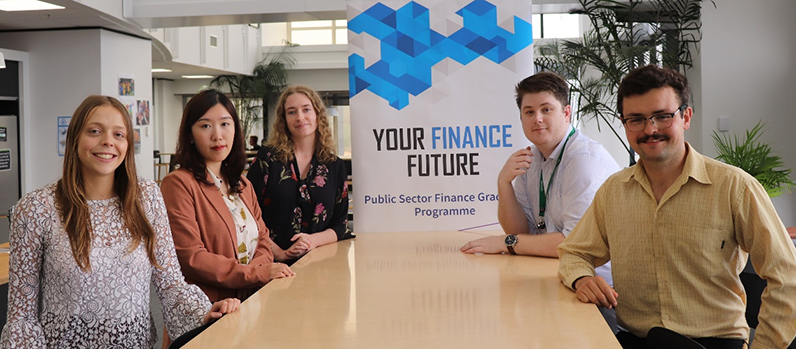 Why the Public Sector Finance Graduate Programme
The programme is built for your success, providing a supportive network, designed to grow your finance and accounting future.
We also offer:
Competitive salary
Inclusive workplace
Strong career pathways
Professional membership and study fees funded
Dedicated mentor supporting your journey
Paid study leave
Flexible working environment
Community with graduates and alumni
Selection stages
There are 4 stages to our selection process:
1. Online application form (you'll be asked to upload your CV, cover letter, proof of right to work in NZ
2. Psychometric assessment
3. Competency-based video interview
4. Virtual session (day 1) and virtual panel interview and presentation (day 2).
Eligibility
You must meet academic requirements to enter CA ANZ Program or CPA Australia Program*
Must have the right to work in NZ for the full 3 years of the programme
Are living in, or willing to relocate to Wellington
*If you are already a Provisional Member of CA ANZ or an Associate Member of CPA Australia, you meet the academic requirement
Other information
For more information about the programme, email the programme team: financecareers@dia.govt.nz
Read our programme brochure (PDF, 800KB)
Chartered Accountants Australia New Zealand (CA ANZ)
Certified Practising Accountancy (CPA) Australia
Hear from our graduates: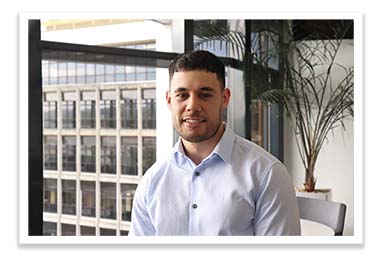 Brendan McKee
"I was born and bred in Wellington, studied at Victoria University, and I joined the Finance Graduate Programme in 2020. So far, I have worked at Kāinga Ora, The Ministry of Social Development and Department of Internal Affairs. My favourite part of being a Public Sector Finance Graduate is definitely the variety offered by the rotations. The ability to work in different accounting roles across different government agencies has been invaluable for my development."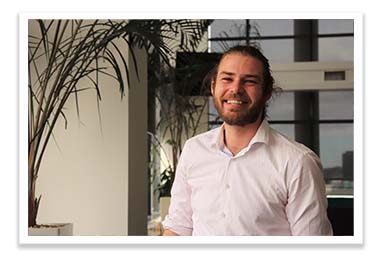 Sam Piercey
"I love the variety of work that I have been given and have enjoyed contributing to the New Zealand public sector. So far, I've worked in tax and financial accounting at Kāinga Ora, procurement at Department of Internal Affairs, and management accounting at Oranga Tamariki. The highlight of the graduate program for me is the wide range of teams you get to work with and the people you meet."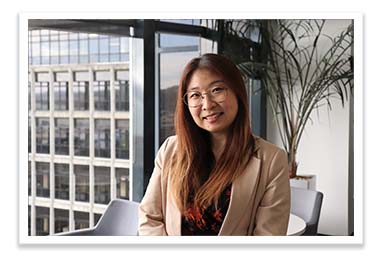 Sienna Park
"Before I started my finance journey, I studied and graduated with a Master of Professional Accounting. In the Programme, I started in financial accounting at DIA, and then the tax team at Kāinga Ora. I'm consistently provided with new opportunities for ongoing professional development. One of the best parts about being in the Public Sector as a finance graduate is that my work helps support Kiwis across New Zealand."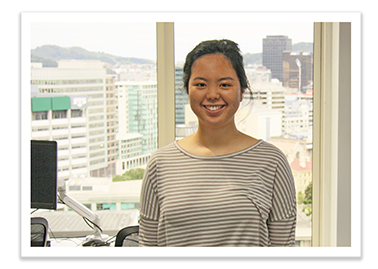 Grace Wu
Bachelor of Commerce, University of Otago
"I love being able to develop skills in many areas and being able to meet and collaborate with people from all of Government. It's been invaluable attending events to listen to leaders in the field talk give career advice and learn from that. But one of the best things is being able to relate the work we do in the office to impacts for New Zealand and being able to transform messy data into something meaningful."
Michelle Lee
Bachelor of Business (Hons), AUT
"I've had the opportunity to understand different ministries, their structures and how they contribute to the bigger picture. On top of that, the people that I've met along the way have been nothing but spectacular. It's amazing to know that I'm making a difference for future generations."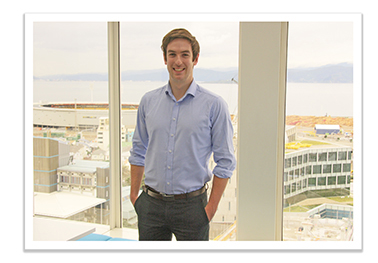 Harry O'Brien-Spargo
Bachelor of Commerce, University of Otago
"In my time here the best part of being in the public sector is the focus on people. I've felt like all the people I've worked with so far have all been really supportive and helpful and this has provided a great platform for my transition into a professional environment."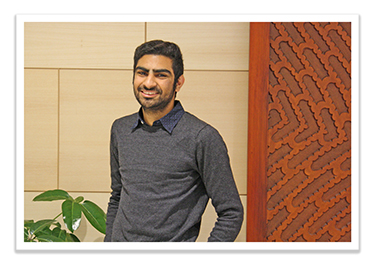 Karan Gandhi
Bachelor of Commerce, Victoria University of Wellington
"My favourite thing about the public sector is the fact that our contributions in Finance will go towards helping people within the country. It's great to know we are making a difference in New Zealand."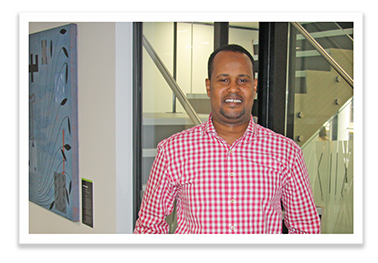 Farhan Ased
Master of Professional Accounting, Victoria University of Wellington
"I love the fact that we are getting rotated between some of the largest and most complex government agencies. The variety of the work I do and the available opportunities to learn new skills are what make this programme remarkable."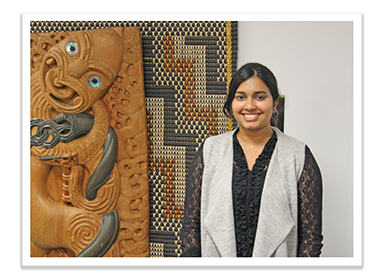 Sashini Fernando
Bachelor of Business Analysis, University of Waikato
"Budgeting, forecasting, business advisory, analysing, and sorting data, there is a bottomless pit of opportunities to learn and grow from here. I love the exposure to the different areas of accounting, and the people you meet and get to work with!"