Awards we've won
Some of our fantastic work recognised by awards and accolades outside of the Department.
2015
2014
2013
2015 WriteMark Plain English Awards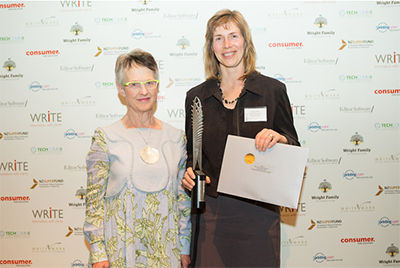 DIA is celebrating the success of both a website and a staff member following the 2015 WriteMark Plain English Awards.
The Govt.nz team were thrilled to win Best Plain English Website Public Sector, the third year in a row that the Govt.nz team has made it to the finals of these awards – but the first time they took a trophy home.
Brigitte Birch, Govt.nz Incubation Manager says "it takes a huge amount of effort to make government language easy to read and understand, so for our team to win this award – which is the premier industry benchmark for high standards in plain English – is a testament to all their hard work".
Senior media advisor Sarah Wilcox was also recognised, being named as a finalist in the Best Plain English Technical Communicator category for her previous science writing work.
"I love the process of teasing a story out of an expert one fact at a time, then reassembling that story so it will make sense for a non-expert" Sarah says.
The Plain English Awards are a public pat on the back for plain English champions, and they help raise the bar for clear communication.
The Awards aim to:
improve government and business documents so that all New Zealanders can understand them
raise public awareness of the need for, and benefits of, plain English
create a public preference for organisations that choose to communicate in plain English.
Congratulations to our colleagues, keep up the good work!
DIA big winner at IPANZ awards night
July 2015

The 2015 IPANZ (Institute of Public Administration New Zealand) Public Sector Excellence Awards were held in July, and DIA was one of the major winners at the government's equivalent of the Oscars!
DIA was nominated six times in the nine categories, and won two of them, taking the top gongs for categories 'Excellence in Regulatory Systems' and joint winner in 'Improving performance through Leadership Excellence' at the TSB Arena in Wellington.
DIA's IPANZ 'Improving performance through Leadership Excellence' poster entry also took the best poster award.
IPANZ is a not-for-profit, membership organisation promoting improvements in public policy and in administration and management across New Zealand's public sector. The awards celebrate outstanding performances and achievements of organisations and project teams in the New Zealand public sector, showcasing the significant contribution the wider public sector makes to meeting the needs of New Zealand and New Zealanders. They recognise and promote excellence in terms of vision, innovation and results, and encourage continuous improvement.
The winners were:
Talent Development: developing leaders for success
In 2012, the Department of Internal Affairs had grown in scope and size, but it had low staff engagement, poor investment in leadership development and needed a step-change in performance.
A new leadership and management development framework was created to develop leaders and managers through induction, talent development and targeted programmes.
The leadership development process is working: senior leaders have been appointed from within DIA, staff engagement has grown by 117% and there's been a measured improvement in leadership behaviour.
Operation HYPER: an Innovative Multi Agency Approach to Child Exploitation Investigations
Operation HYPER is an innovative, multi-agency* approach to online child exploitation investigations, resulting in the rescue of abused children around the world.
Operation HYPER in 2014 saw a planned and systematic step up in the three agencies' response to crimes relating to child abuse material and sexual abuse.
A co-ordinated day of action, also involving the United Kingdom, resulted in seven convictions; and seven children have been made safe from actual or potential abusive situations.
It's been hailed internationally as an example of excellence in a particularly difficult field of regulation; the three agencies use different regulatory tools to collaborate and achieve the best outcomes for the victims and communities of New Zealand and worldwide.
The agencies have established a protocol for running future joint agency operations which will allow for a fast, co-ordinated approach.
*Department of Internal Affairs, New Zealand Police, New Zealand Customs Service.
The finalists were:
New Zealand Defence Force Personnel Files – Digitisation Project
Archives New Zealand holds the New Zealand Defence Force (NZDF) Personnel Files for all known New Zealanders who served in the First World War. Because the original files are restricted for preservation reasons, the collection has been digitised (over 140,000 individual records), and is available through Archway to view and download, free-of-charge.
Govt.nz
More accolades for Govt.nz, which continues to impress with its easily accessible and modern online government information site.
7726 Spam Reporting Services
This project makes New Zealand better for New Zealanders by making the reporting of text message spam quick, easy and free, simply by forwarding the offending spam message to the short code 7726.
NZ Navigator
NZ Navigator was developed by our Charities Services team – as part of a community development initiative – to help community organisations in New Zealand channel their funds and time into areas that will help build their capability.
Congratulations all round!
Jay Gattuso wins the inaugural GT Alley award
July 2015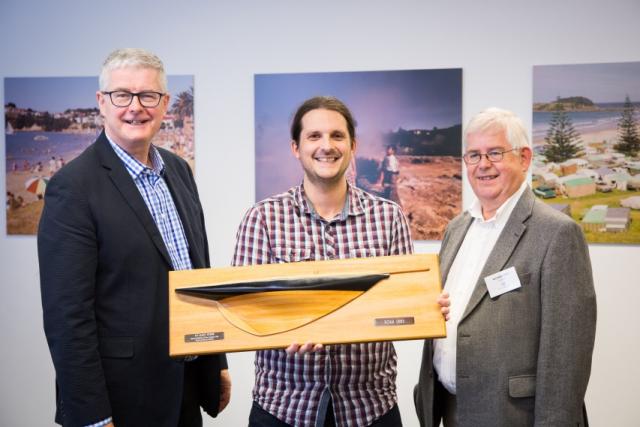 By National Librarian Bill Macnaught
I was honoured to be part of the first ever GT Alley award which was presented to Jay Gattuso for his work in developing the National Library's preservation programme.
Jay has been a tireless contributor in terms of his day to day activities, but it is in the area of innovation and going beyond the call of duty that was recognised in his receiving the award. This award is especially significant as the recipient is chosen by peers and not managers. Jay was a clear winner with his collaborative work in the born digital preservation space highlighted as an example of his energy and expertise.
Jay was typically modest in his acceptance speech and thanked his colleagues in the preservation team adding that his achievements were only possible due to the support he'd received.
The ceremony took place Friday 3rd July with the award presented by Richard Eats, the President of the National Library Society.
The award was sponsored by The National Library Society in honour of the first ever National Librarian, GT Alley who served from 1964 to 1967 and depicts the Rona, a yacht that was owned by Alexander Turnbull and still sails today.
Well done Jay – a very worthy winner of the GT Alley Award for 2015.
It's a win for Govt.nz at the ANZIA Awards
September 2015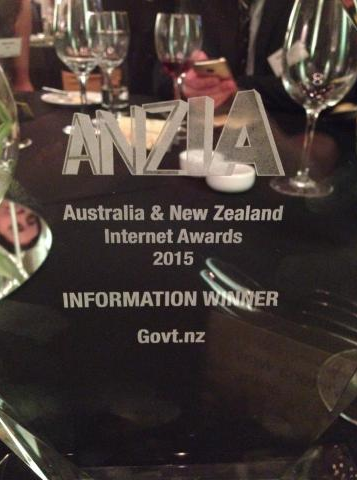 Well done to the Govt.nz team, a team within Government Information Services, who won the 'Information' category at the 2015 Australia and New Zealand Internet Awards (ANZIA) held in Auckland on 25 August 2015.
In its seventh year, the awards are open to Australian and New Zealand organisations, businesses or individuals that have made significant contributions to the development and use of the Internet in either country. This year the awards received the most number of applications ever received.
The 'Information' category awards initiatives that bring information, knowledge and materials online that includes offering public or community services online, enabling users to benefit from increased access to online materials or information, and bringing citizens closer to parliamentarians or Government.
Govt.nz Incubation Manager Brigitte Birch says, "Winning the award is a huge credit to the team, our colleagues in IKS and our partner agencies for their hard work and commitment to making governments online information easier to find, access and use.
"This acknowledgement particularly reflects the work that has been done to make it easier for people with low literacy in English, and the functionality that's been developed to make it easier for people to engage with government through consultations and submissions. This award shows how committed this agency and our partners across the state sector are to improving services for citizens."
Well done to everyone at Govt.nz and keep up the good work.
DIA's 'Choice' publication proves choice with the judges!
May 2015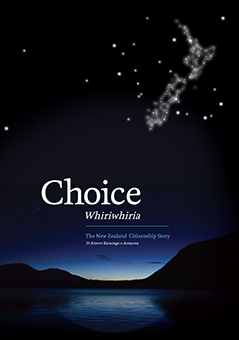 Earlier this year, the Department published Choice Whiriwhiria – The New Zealand Citizenship Story, a commemorative book which features the stories of people who've chosen to become NZ citizens and includes information on NZ citizenship.
Just quietly, we thought the book was pretty choice and in May, the judges at NZ's premier annual Pride in Print Awards agreed with us when they awarded Choice Whiriwhiria a Gold Award in the Publishing Category. Choice was one of seven gold medals awarded from a field of 36 entries.
Jeff Montgomery, GM Births, Deaths, Marriage, Citizenship, Authentications and Translations says he is thrilled with the award.
"A lot of hard work went into the production of Choice and to have that recognised externally is fantastic."
Jeff added that the book, which is being presented to new citizens when they attend citizenship ceremonies around New Zealand, has been very well received by both councils and recipients.
Gold Quill Award winner
April 2015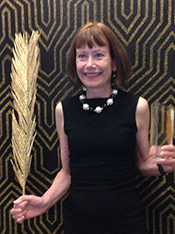 Shona Brown, the Department's Internal and Publishing Communications Manager, won the prestigious International Association of Business Communicators (IABC) 'Gold Quill Award' for her entry in the Employee Engagement category.
Her entry, Increasing engagement and building our culture, described the huge Creating Our Future work programme undertaken across the Department between March 2012 and March 2014.
Shona says it was a team effort and she's thrilled the hard work and results had been recognised at such a level.
The Gold Quill Awards programme recognises business communication excellence globally, and is acknowledged as one of the most prestigious awards programmes in the industry. Entries are evaluated against IABC's standard of excellence, and the feedback from evaluators this year indicated that the standard of work in this year's awards was some of the best seen in recent years.
"We had a pretty compelling story to tell," she says when describing how this piece of work started and the solid set of metrics used to demonstrate how successful it had been. In the end it was all about commitment to lifting engagement and changing the culture of the Department. It has been a privilege to be part of that."
The HR Academy Awards
March 2015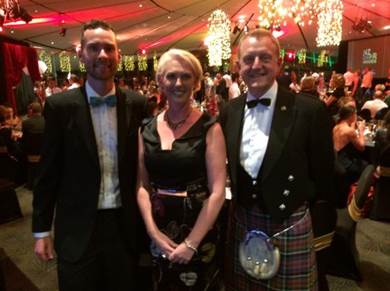 We all know our Human Resources (HR) team is awesome – but now so does everyone else!
Team DIA was entered in two categories at the annual HRINZ (Human Resources Institute of New Zealand) Awards – and we were finalists in both!
Director HR Andrea Cooke says, "There are just three finalists for each category, so even to be in the short-list (in both categories!) is a great recognition to the hard-work and commitment of our team.
"And despite not bringing home the trophy, it was fantastic that we were there representing the public sector, and it is fantastic to see our logo in print in the awards book.
"We will frame our finalist certificates, and put them up for all to see. Being a finalist is well worth celebrating, and the competition was definitely very strong!"
Deputy Chief Executive Shared Services Branch Morag Woodley said, "Well done to everyone involved in the preparation of the applications, they take a lot of effort.
"I am very proud of the work the team has done. Great work team – we'll get 'em next year."
Congratulations Vicki-Anne Heikell, recipient of the Meri Mygind Wahine Toa Award
March 2015
Pictured: Vicki-Anne in action. Here she is demonstrating conservation box-making at Ōmaio marae Te Whānau-a-Apanui. (Photo credit: Michael Hall).
The National Library's Vicki-Anne Heikell has been awarded the Meri Mygind Wahine Toa Award, recognising her initiative, creativity, dedication and promotion of Māori services within libraries, archives, information repositories, museums, and within Te Rōpū Whakahau.
Vicki-Anne has demonstrated these skills since being appointed to her current role of Field Conservator with the National Preservation Office in 2011, and also in her previous roles with the Library, as a Paper Conservator with Te Papa Tongarewa, and in private practice.
Vicki-Anne has expertise in caring for works on paper and has built-up significant knowledge in working with other collection formats. She has applied this expertise working with Māori community groups, iwi, hapū, and whānau; developing strategies for care of paper-based collections; and organising workshops on care of collections for Māori organisations, iwi, hapū and whanau. She has applied this background to build and sustain relationships between individuals, Māori organisations, iwi, hapū and whānau and across different sectors.
Characteristic of her work are:
Aroha ki te tangata (a respect for people), has been a guiding principle of this aspect of her work.
Te mahi kaiwhakaako, teaching, which includes contributing specialist knowledge to Te Wānanga o Raukawa Puna Maumahara tertiary programme and Te Rōpū Whakahau workshops.
Manaakitanga, concern and caring for the well-being of others, whether hosting manuhuri at the library, or out in the community, representing the Library. Hei tā te kōrero, 'He tangata i akona ki te whare, tūnga ki te marae tau ana'.
collaboration, both internally, across the National Library and other parts of the Department of Internal Affairs, and externally. This collaboration involves groups such as Heritage New Zealand; National Services Te Paerangi, Archives New Zealand, Whare Wānanga, and Te Rōpū Whakahau.
Innovation, including a trial of 'speed dating with conservators' sessions; and the initiation of 'Conservation Conversations' – regular updates and professional development sessions for Library staff.
A strong sense of ethics and the importance of tikanga.
Vicki-Anne maintains links with colleagues in the conservation profession and is a member, and former office holder, of the New Zealand Conservators of Cultural Materials Association Pū Manaaki Kahurangi.
Congratulations Vicki-Anne!
If you'd like more information about the award, head to the Te Rōpū Whakahau website.
Govt.nz - Plain English awards finalists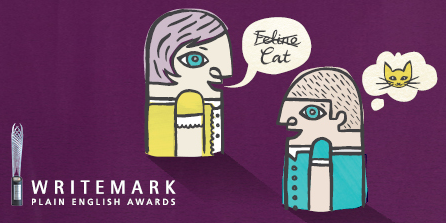 November 2014
Well done to the Govt.nz team who were finalists at the 2014 WriteMark Plain English Awards, nominated for 'Best Plain English Sentence Transformation'.
Following up from its three finalists last year, the team was this year nominated under the category of 'Best Plain English Sentence Transformation'.
The team are committed to speaking the language of our users, not the language of government. All of the content on our site has been written in plain English and is organised around user's needs.
They took content from different agency sites and re-wrote it to provide an overall view of the topic and in some cases, where content did not exist, they created it.
The Govt.nz team has been improving the way government interacts with New Zealanders online since the site was launched as a beta version in August 2013, going live in July this year. The key principle is that content is easy to find, read and understand.
Common Web Platform a winner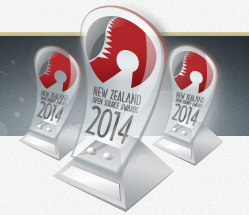 November 2014
Government Information Services' (GIS) Common Web Platform (CWP) has won the ''Open Source in Government" award for 2014. The 12 November awards ceremony was held at Te Papa.
The CWP was up against four finalists in its category, including DigitalNZ – a great achievement in itself (having two finalists amongst the four).
The CWP is a platform as a service offering for government websites. Agencies maintain control of their websites, including the look and feel, and can extend the functionality as they need. CWP allows for better collaboration between agencies, including the re-use of code to reduce cost across Government.
The New Zealand Open Source Awards recognise and promote the contributions of New Zealanders to free and 'open source projects' and 'free and open source philosophy. The judges felt CWP represented exemplary use of free and open source technologies by New Zealand organisations.
DIA takes home an IPANZ trophy
July 2014
We are proud to announce that DIA took home a big shiny trophy at the 2014 Institute of Public Administration New Zealand (IPANZ) Awards - and we were finalists in three out of four categories!
First place went to Service and System Transformation for Infrastructure as a Service in the 'Digital Government' category.
This project aimed to rationalise government ICT assets and make ICT services for government agencies more effective and cost-efficient. A 'pay-as-you-use' system, was introduced, and volume discounts were leveraged by combining the demand from multiple agencies. In addition, setting a platform for moving to a cloud computing model provided the foundation for further cost and service benefits. This highly innovative and collaborative project now has 52 agencies signed up, and direct savings have reached $16.6 million against a project cost of $3 million.
Congratulations team!
RealMe a real winner at Internet awards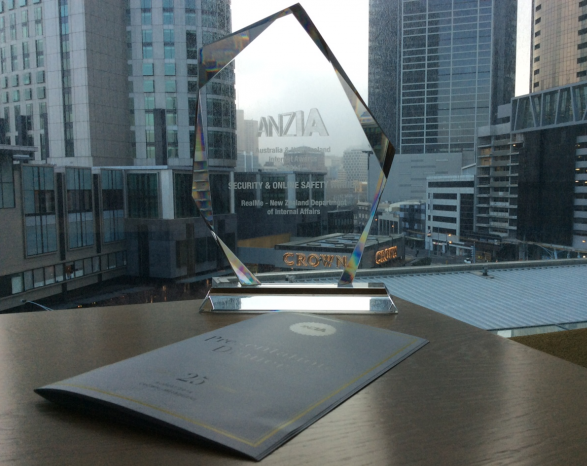 August 2014
RealMe won an Australia and New Zealand Internet Award in the category of Security & Online Safety.
The win for RealMe in the Security & Online Safety category at the Australia and New Zealand Internet Awards held in Melbourne underlines the trust and confidence New Zealanders can have in the RealMe service.
We were impressed by the breadth and quality of nominations and finalists for the awards. The judging was tough, and we're privileged to have won!
RealMe was built to create trust and confidence for the user and the organisations offering online services that require proof of identity.
Government agencies are working together to make it easy for customers to access services digitally using RealMe, as it is a core compoment of the drive to deliver better, faster digital services. A million people now have RealMe logins, while over 20,000 have taken the next step to a RealMe Verified Account.
Congratulations to everyone involved with RealMe – you've earned this!
Contact Centre takes out top award ... again!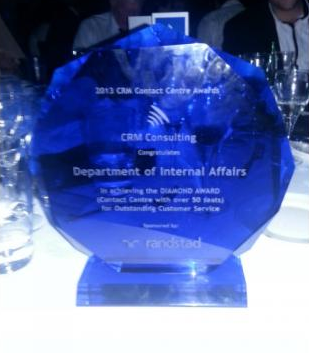 September 2013
For the second consecutive year, our Contact Centre has scooped top honours – the Supreme Award for a Contact Centre with over 50 seats – at the CRM Awards in Auckland.
For the past nine years our Contact Centre teams in Wellington and Auckland have done extremely well in the awards, having won the Supreme Award in 2009, 2012 and now 2013. And, for the last 11 years, they've been finalists in the Public Sector Category.
The key to our team's success is consistency. Our staff are very focused on at providing and maintaining a very high quality service to our customers.
All of DIA should be celebrating this award. It demonstrates very publicly that we definitely are stronger together!
The CRM Contact Centre Awards was introduced to New Zealand in 1997 to measure the quality of service delivered by contact centres over the telephone and internet, and to raise awareness of the impact this has upon their image.
DIA finalists in government 'academy awards'
July 2013

The 2013 IPANZ (Institute of Public Administration New Zealand) Awards were held in Wellington this month.
The event – referred to as the 'academy awards of the government' – was a fantastic opportunity to showcase some of the outstanding work being done by Internal Affairs.
The Awards highlight the significant contribution the public sector makes to meeting the needs of New Zealand and New Zealanders. They recognise and promote excellence in terms of vision, innovation and the achievement of results and encourage continuous improvement in services to New Zealanders.
DIA was nominated for four major initiatives (in total more than 80 nominations were received across eight award categories). While we didn't win an award on the night, two of our nominations: online adult passport renewal service and the Web Toolkit were finalists in their categories.
Here's a bit about each of our nominated initiatives.
Online Passport renewal service
The online passport renewal service is a world leading initiative which helps manage increased volumes resulting from the legislative change to the life of the passport from 10 to five years. It is part of the Passport Redevelopment Programme that replaced an aging system with one that allows greater automation, efficiency and improved security processes. The programme also wanted to ensure that the New Zealand Passport maintained its status as a highly credible and secure document.
Web Toolkit
The Web Toolkit was designed primarily for an all-of-government audience but is also available to suppliers to government. It supports Results 9 and 10 by providing best practice guidance on how to enable easy online access to government information and services for business and the public. It includes a blog to make it easier for government web and communications specialists to share and access information about online delivery.