Gaming machine profits (GMP dashboard)
Dashboard file showing current quarter, and historic data for the numbers of gaming machines and licenced premises in each council area, tracked since 2015.
On this page
Dashboard
Last updated: 30 June 2021
Gaming Machine Profits (GMP) Dashboard (data.govt.nz website XLXS and machine readable formats)
The Excel spreadsheet contains 4 reports. Explanations to help you understand the information, and what it shows, are provided below.
The dashboard shows the numbers of approved gaming machines licensed to operate at approved venues as at the last day of the current quarter.
It does not include gaming machines, societies or venues currently under a licensing application or renewal process.
This is a 'snapshot' of the current state of affairs at a point in time. It is not conclusive, and should be read in context of the broader dataset.
Contact us if you want up to date information about machine numbers in a district.
GMP trends
Date range: April to June 2021
Quarterly Gaming Machine Profits (GMP) were $260,617,914 in June 2021, making this the highest quarter on record. Compared to the March 2021 quarter, quarterly GMP increased in June by 13 percent. This is significantly higher than historic trends, which show an average quarterly increase of 7 percent between March and June in the 5 years prior to the 2020 year.
GMP was $986,652,226 over the past 12 months, making this the highest 12-month period on record. This represents a 23 percent increase from the previous 12 months ($802,411,541). These results need to be considered in line with the impact of COVID on the gaming sector over recent times. For example, there was a 44 percent drop in the June 2020 quarter due to the venue closures.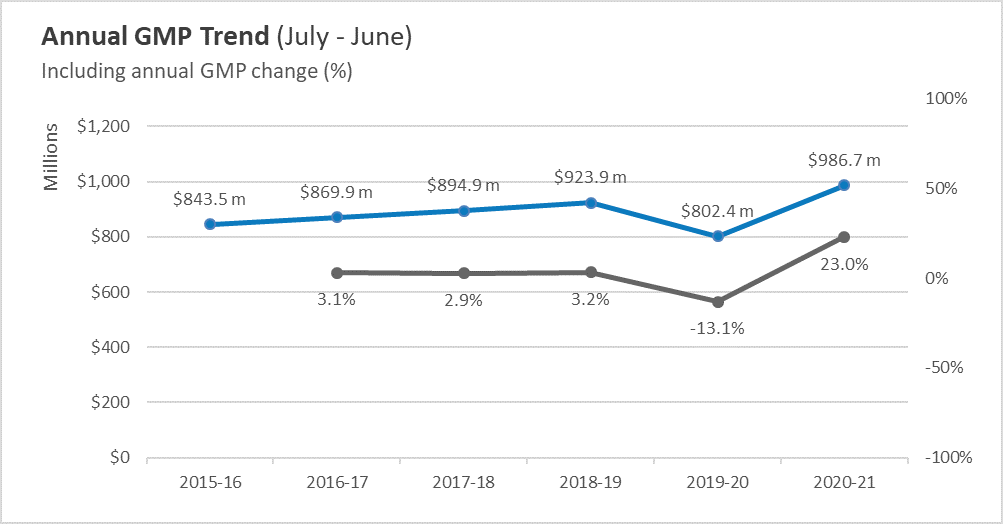 Annual GMP Trend Graph 2021
The steep increase reflects record levels of GMP during the year to June 2021 compared to a significant decrease the previous year due to COVID-19 restrictions during the June 2020 quarter. In the 3 years prior to 2020 (pre-COVID), June trends show yearly GMP increased by an average of 3 percent.
Compared to the March 2021 quarter, the June quarter shows the three highest overall quarterly GMP increases were in Carterton District (27.6 percent), followed by Waitomo District (25.4 percent) and Auckland City (23 percent). Taking Auckland City at the local board level, 16 of the top 20 highest increases in GMP across New Zealand were within Auckland Council local boards.
Nationwide, GMP increased over the past 12 months in all districts, in part due to the lower than usual GMP resulting from COVID restrictions during the previous year. All districts, except five, also increased GMP in the last quarter.
The five districts that decreased their quarterly GMP compared to the previous quarter are Chatham Islands, Hauraki District, Mackenzie District, Queenstown-Lakes District, and Thames-Coromandel District.
Nationally for the year to June 2021, the number of venues has decreased by 15 and gaming machines decreased by 143 compared to June 2020. In the June 2021 quarter, the number of venues decreased by 4 and gaming machines decreased by 28 compared to the March quarter. This is consistent with trends showing a gradual reduction of venues and gaming machines in New Zealand over time.
For more detail on these numbers and trends, please see our GMP Dashboard.
Interpreting the data
There are four reports within the Excel version (human readable) of the GMP dashboard:
Key stats - Key stats about any timeframe or area selected.
In detail - Dynamic dashboard that allows you to select information you want to see based on time and location.
Quarterly by council area (or territorial authority) - Dynamic table that allows you to compare GMP, gaming machines and venues by quarter and TA.
Current quarter licensed venues
Data - Data that sits behind all the dynamic tables and dashboard.
Two additional sheets provide help for navigating and reading the data:
Notes to the tables – details what is, and is not, included in the data.
Contents and directions – instructions for how to navigate the document and extract the information you need. It covers how to:

use control buttons to manipulate different views
uncover detail behind the graphs
troubleshoot.