How NZ responds to online child sexual exploitation
Identification of objectionable content
Te Tari Taiwhenua Department of Internal Affairs (DIA) is made aware of potentially objectionable child sexual abuse material through these channels:
Content Complaint Form: This is the dedicated place to report child sexual abuse material on the DIA website. Investigators review all reports, the actions that may be taken depend on the outcome of their review.
Other agencies: Other government and non-government agencies, both domestic and international, refer content to DIA for investigation.
General scanning by our specialists: DIA conducts regular scanning across online platforms to understand the nature of content. We have specialist tools and techniques to carry out this scanning. When we identify something harmful, appropriate action is taken.
The actions we may take depend on the type of content reported. We may:
Identify, investigate, and prosecute individuals who possess or distribute the content; or
Refer the content for consideration for addition to the Digital Child Exploitation Filtering System, if it is hosted on a website; or
Engage with appropriate agencies such as Netsafe, Police, or Te Mana Whakaatu The Classification Office, if the content is not found to contain objectionable material
Identifying victims of child sexual abuse material
DIA works tirelessly alongside representatives from the NZ Police and NZ Customs Service to identify and locate the victims in child sexual abuse material (CSAM). The three agencies are members of Taskforce Ruru, an inter-agency operational taskforce group that specialises in investigating and identifying New Zealand-based victims of child sexual exploitation.
Victim identification is highly specialised, and we rely on trained victim identification investigators to look for clues in the images and videos of abuse to identify victims and offenders. These investigators also work closely with international counterparts to ensure that they are aware of clues that are unique, typical, or easily recognisable to other countries or regions.
Identifying New Zealanders responsible for sharing objectionable content
DIA will, where possible, identify New Zealanders who are responsible for creating, sharing, or possessing objectionable content.
Creating and distributing objectionable content are offences under the Films, Videos, Publications and Classification Act 1993 (the Classification Act) and DIA can prosecute for those offences. Any decision to prosecute is made pursuant to the Solicitor-General's Prosecution Guidelines which require sufficiency of evidence, and that the prosecution is in the public interest, including consulting with other concerned government agencies.
DIA will ensure we reflect Aotearoa New Zealand's commitment to the rule of law, human rights, and fundamental freedoms – including privacy and freedom of expression.
For more information on the Act and the legal processes relevant to our operations, visit the legislation and legal processes page.
What are the penalties for possessing or trading in objectionable material?
Anybody "knowingly" found in possession of objectionable material can receive a maximum of 10 years imprisonment and a fine of $50,000.
Anybody who knowingly makes or knowingly trades, distributes, or displays an objectionable publication via the Internet can receive a maximum of 14 years imprisonment. A body corporate can be fined up to $200,000.
What should I do if I find content that I believe is objectionable?
DIA investigates and prosecutes people who deliberately collect objectionable material and find ways to distribute it to other people via the internet.
Occasionally, the nature of the internet can lead to somebody viewing objectionable material either unintentionally or by mistake. If this happens to you, leave the site immediately and submit a report to the Digital Child Exploitation Team below:
Report Online Child Exploitation Material
Support for whānau, families and friends affected by an investigation into child sexual exploitation
DIA have worked with our partners at NZ Police and NZ Customs Service to develop an information pack for non-offending partners and family members that are impacted by a child sexual exploitation investigation.
We know this is an incredibly distressing time for you and your whānau. These matters are often very complex, and this support pack will provide some information on what the court process is going to look like. It also includes support services that you can reach out to for help during this difficult time.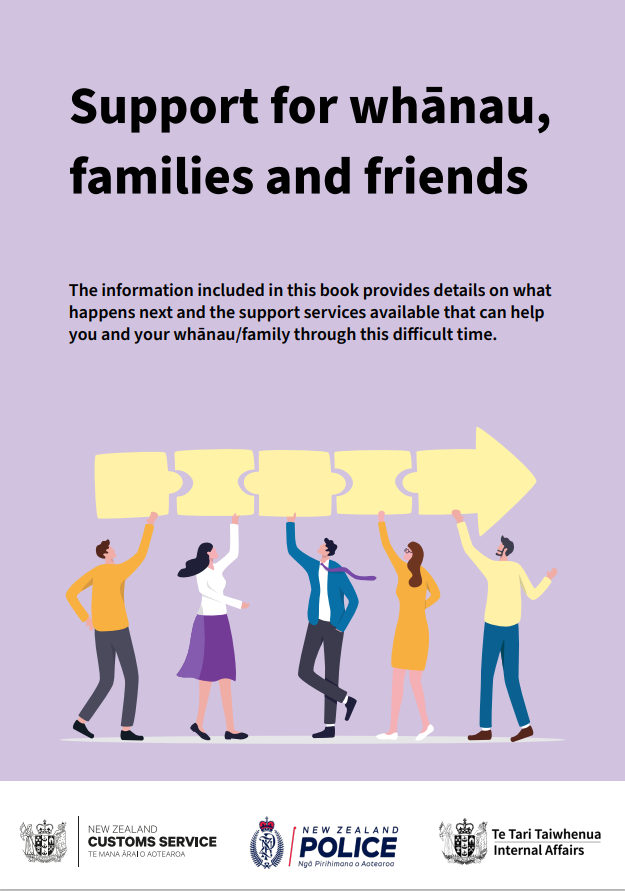 Help for harmful sexual behaviours
Viewing child sexual abuse material can be harmful to yourself and others. If you are concerned about your own activity or someone else's sexual behaviour, talking to a professional can help.
Support for whānau, families and friends affected by an investigation into child sexual exploitation