Reducing Pokies Harm
Announcement of new harm minimisation regulations for class 4 gambling (pokies)
Updated Legislation to Minimise Gambling Harm
01 June 2023
The Government has announced new regulations the Gambling Harm Prevention and Minimisation Amendment Regulations 2023 to strengthen gambling harm minimisation in class 4 venues.
These new regulations are designed to ensure venues and gambling societies meet their responsibilities to prevent problem gambling. They include changes to advertising and branding regulations, establishing clearer procedures to enable the identification of problem gamblers through strengthening monitoring practices. They also establish a number of infringement offences for breaches of these requirements.
Why are these regulations changing?
Pokies are one of the most harmful forms of gambling and are the main reason that people seek gambling-related help in Aotearoa. The current settings in venues don't do enough to prevent and minimise harm.
To see the Minister's press release in announcing these regulations, click here.
What is changing?
The new regulations are made up of three parts. The changes will be phased over six months to provide time for the sector to implement the changes.
Part 1 comes into effect on 15 June 2023 and includes changes to responsibility for complying with the existing restrictions on jackpot advertising and jackpot branding at class 4 venues.
Prior to this amendment, the obligation to comply with these requirements rested with three parties – the venue manager, the holder of the class 4 licence and the venue operator. The changes remove the responsibility from the venue manager for these two requirements, so responsibility now rests with the holder of the class 4 licence or Venue operator.
Breaches of these requirements will become an infringement offence from 15 June 2023, with an infringement fee of $1,000.
Part 2 on 1 September 2023 includes:
New requirements about what problem gambling awareness training must cover including mandatory practical and interactive sessions on how to interact with gamblers, identify signs of harm and provide gamblers with information on how they can seek help.
Part 3 on 1 December 2023 - all changes will be in force, including:
All venue staff who supervise gamblers must be trained, replacing the previous rule where a minimum of one harm minimisation trained person was required at the venue if gambling was available.
Venue staff who are supervising gamblers must be trained in the new requirements, and this training must occur at least once per year.
Clearer requirements around identifying harm - - staff will have to conduct at least three physical observations (sweeps) of the gaming area per hour, these must be at least 10 minutes apart and they must be recorded. Venue managers are required to review these records weekly.
Venue staff must have conversations with gamblers if they have been identified as showing certain signs of harm. The conversation is to assist with identifying whether the player is a problem gambler, and a record must be kept of these conversations.
New venue layout requirements to ensure easier monitoring of ATMs by staff from the main bar or service area, and to ensure that gaming machines generally are not visible from outside of the venues
Also coming into effect are updated regulations around payment of infringements and new infringement offences.
There are also new regulations containing a list of new infringement offences for breaches of these regulations.
What do these changes mean?
Societies, clubs and venues must start planning and implementing what they need to do to comply with the new regulations by the time each part comes into effect, including:
Developing and delivering the new training requirements (as set out in Part 2).
Staff who start after 1 September 2023 will need to be trained in the new requirements, and existing staff must be trained in the new training requirements when they receive annual training.
Meeting the new requirements for the location of ATMs and ensuring gaming machines are not visible from outside venues with a specified gaming area. From 1 December 2023, ATMs inside a class 4 gambling venue must be in the line of sight of the main bar area of the venue, or if the venue doesn't have a bar area, the main customer service area. This may require ATMs to be physically moved and re-installed.
Te Tari Taiwhenua (Department of Internal Affairs) is developing further information and guidance to help sector participants with their responsibilities.
Next steps
We will be developing guidance to assist regulated parties in complying with the new regulations. This guidance will set out our expectations of what compliance looks like.
Once in place, we will be monitoring clubs, societies and venues to ensure compliance with the new requirements. Breaches of the new regulations with associated infringement offences may result in an infringement notice being issued.
Summary of submissions report from public consultation

These changes have been informed by public consultation. The Department ran a consultation process to seek feedback from the public on some high-level options for reducing harm. Consultation ran between 17 March 2022 and 28 April 2022. A series of hui with targeted stakeholder groups were also held.

Below are links to the discussion documents.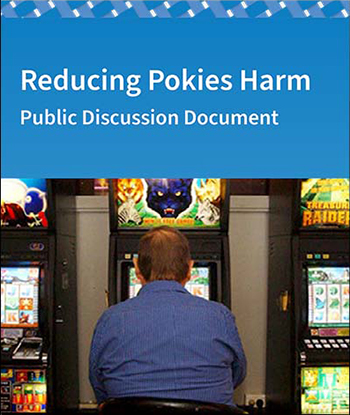 In other languages:
Below is a link to the summary of submissions report from public consultation.
This report summarises the views of 1,322 individuals and organisations that submitted on the discussion document from March to April 2022.
The full submissions are available here: Reducing pokies harm submissions
Publishing submissions
The Privacy Act 2020 governs how the Department of Internal Affairs collects, holds, uses and discloses personal information about submitters and the information they have provided. Submitters have the right to access and correct personal information.
Staying in touch
If you are interested in being updated on the progress of this work, you can sign up for email updates at: pokiesconsultation@dia.govt.nz.