Reducing Pokies Harm
Announcement of new harm minimisation regulations for class 4 gambling (pokies)
Pokies in our pubs, clubs and TAB NZ outlets are the most harmful form of gambling in New Zealand. Most of the people who contact gambling help service providers say pokies are their main source of harm. Māori and Pacific communities, who may already be experiencing financial or social challenges, experience disproportionate harm from a concentration of pokies in their neighbourhoods.
The Minister of Internal Affairs has announced changes to strengthen regulations (rules) for Class 4 gambling (pokies) to reduce the harm they cause people.
The changes to pokies harm minimisation regulations will include:
Mandatory annual training for all staff dealing with gamblers, ensuring that staff in pokies venues are better trained.
New requirements around the steps venues must follow to identify harmful gambling, such as regular sweeps and recording signs of gambling harm.
Two new rules around venue design that will support harm minimisation by ensuring that staff can better monitor ATMs and pokie machines are less visible.
A range of new infringement offences to help penalise those who fail to comply with harm minimisation regulations.
The amendment regulations are now being drafted. If you are interested in how regulations are developed see the link here: Developing and making regulations
The new regulations for Class 4 pokies are expected to be in place in the first half of 2023.
Summary of submissions report from public consultation

These changes have been informed by public consultation. The Department ran a consultation process to seek feedback from the public on some high-level options for reducing harm. Consultation ran between 17 March 2022 and 28 April 2022. A series of hui with targeted stakeholder groups were also held.

Below are links to the discussion documents.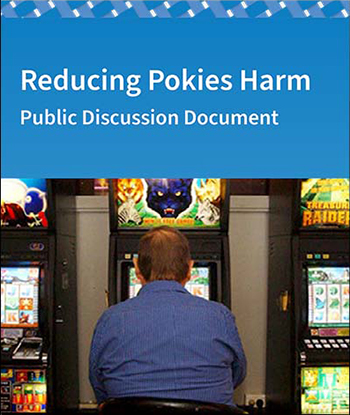 In other languages:
Below is a link to the summary of submissions report from public consultation.
This report summarises the views of 1,322 individuals and organisations that submitted on the discussion document from March to April 2022.
The full submissions are available here: Reducing pokies harm submissions
Publishing submissions
The Privacy Act 2020 governs how the Department of Internal Affairs collects, holds, uses and discloses personal information about submitters and the information they have provided. Submitters have the right to access and correct personal information.
Staying in touch
If you are interested in being updated on the progress of this work, you can sign up for email updates at: pokiesconsultation@dia.govt.nz.