Reducing Pokies Harm
Public consultation on reducing pokies harm
Submissions to this consultation have now closed.
The Government is looking into strengthening regulations (rules) to minimise harm from Class 4 gambling (pokies) in New Zealand.
Pokies in our pubs, clubs and TAB NZ outlets are the most harmful form of gambling in New Zealand. Most of the people who contact gambling help service providers say pokies are their source of harm. Māori and Pacific communities, who may already be experiencing financial or social challenges, experience disproportionate harm from a concentration of pokies in their neighbourhoods.
Strengthening regulations could help prevent and minimise the risk of harmful gambling for whānau and communities. The Government is considering a range of options focused on how staff in pubs and clubs identify and deal with harmful gambling, potential changes to the machines and opportunities for more penalties.
This is the first stage of the Government's steps to prevent and minimise harm from pokies.
Public Discussion Document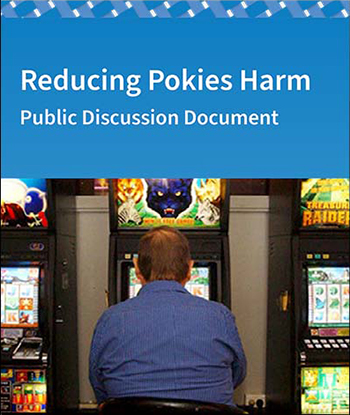 In other languages:
How to have your say
Submissions to this consultation closed 28 April 2022.
Fill in a submission form above.
Email your submission to:
pokiesconsultation@dia.govt.nz
OR
Send a hardcopy of your submission to:
Gambling Policy Team
Department of Internal Affairs
PO Box 805
Wellington 6140
Publishing submissions
It is usual practice for all submissions made to the Department of Internal Affairs to be published on its website.
Submissions may also be subject to a request made under the Official Information Act 1982.
If there is information in your submission that you do not want released, please make this clear and explain
why. For example, some information may be confidential because it is commercially sensitive or personal. You
may also ask for your details to be withheld if your submission is requested under the Official Information Act
1982.
The Privacy Act 2020 governs how the Department of Internal Affairs collects, holds, uses and discloses
personal information about submitters and the information they have provided. Submitters have the right to
access and correct personal information.
What happens next?
Your input is important, as all of the submissions made through this process will be read and considered as the
full set of regulatory proposals are being developed. If the Government decides to progress the proposals to
amend the regulations, these changes will go through another, more targeted consultation (an 'exposure draft')
to provide a further opportunity for feedback.
If you are interested in being updated on the progress of this work, you can sign up for email updates at:
pokiesconsultation@dia.govt.nz.
If you are interested in how regulations are developed see: https://dpmc.govt.nz/publications/developing-and-making-regulations