Fire and Emergency New Zealand – a funding review
Fire and Emergency was formed in 2017. It brings together our urban and rural, and paid and volunteer firefighters. It responds to fire events, but also has other key functions (such as hazardous substances, and transport accident response).
The Government is reviewing the way that Fire and Emergency New Zealand is funded. Presently, Fire and Emergency is funded by levies through property insurance. If you insure your house or contents, some portion of your insurance bill goes to pay for Fire and Emergency.
We want to know whether there are better ways to pay for Fire and Emergency. This review explores whether non-insurance funding options would be viable.
We've released a public consultation document to outline the issues and seek feedback on high level options for other ways to fund Fire and Emergency.
Consultation document
Read or download the consultation document: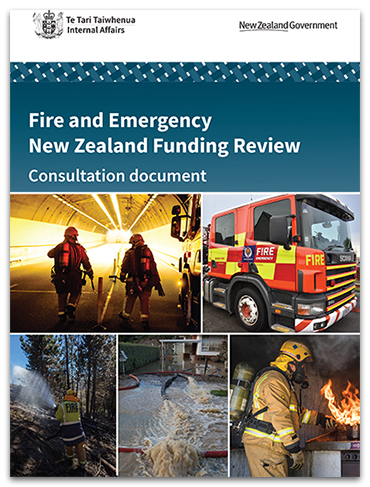 Quick Read version:
Read or download the Quick Read version of the consultation document: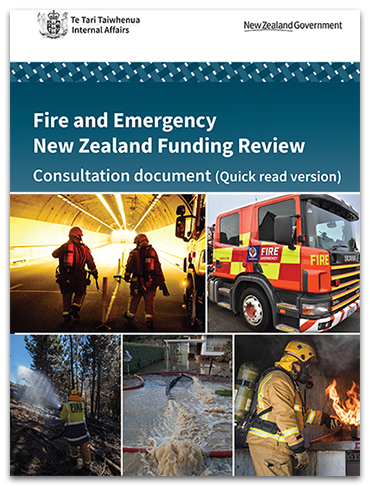 Improving an insurance-based funding model
The Fire and Emergency funding review is now focussing on ways to improve an insurance-based levy system - the Department's media release announcing the new scope of the funding review is available here: Refined scope for Fire and Emergency's funding model review (30 April 2021)

The Department is working with targeted stakeholders through this phase of the review to ensure that the Fire and Emergency levy adheres to the principles in the FENZ Act (that the levy is stable, universal, equitable, predictable, and flexible) and can be effectively implemented.

There will be further public consultation prior to any change in the levy amounts that people will be required to pay.
If you want to get in touch with the funding review team you can email them at firefundingreview@dia.govt.nz
Supporting material
This material provides further detail to supplement the issues talked about in the consultation document:
What happens next?
Later this year (2021), the Department will make recommendations about what improvements, if any, can be made to an insurance-based funding model and
Government will decide what changes will be made to the FENZ Act.
Following this, public consultation will take place on how much levy different parties should be charged.