Our role
Enforcing the Act
The Department of Internal Affairs' Digital Child Exploitation Team in the Digital Safety Group is responsible for enforcing the provisions of the Films, Videos, and Publications Classification Act 1993.
The Digital Child Exploitation Team:
helps to ensure that publications considered to be objectionable are not made available to members of the public;
helps to ensure that the decisions of the Office of Film and Literature Classification are adhered to by the film and video industry, magazine distributors, and shops; and
investigates complaints.
The Unit provides information about child safety online, anti-virus and family protection software, and reviewing internet activity, and useful links to other websites about internet safety and child safety issues (including some interactive sites for children).
Prosecuting offenders
Inspectors of Publications can prosecute people for offences which relate to the labelling of publications and their display, and the manufacture, supply, distribution, advertising and exhibition of objectionable or restricted publications.
Our press releases contain information about our results.
Submissions on classification of publications
Under delegation from the Secretary for Internal Affairs, Inspectors of Publications may submit unclassified publications to the Office of Film and Literature Classification, when they have cause to believe it may be objectionable in terms of the Act, or needs to be restricted in some way.
If a publication has been submitted to the Office, the owner has the right to make submissions on the classification of the publication.
Approach to compliance and enforcement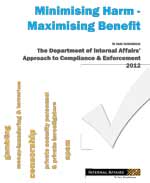 The Department's approach to compliance and enforcement in this area is set out in the Minimising Harm - Maximising Benefit document.
See also: The Department's Prosecution Policy