Independent Reference Group Briefing April 2011
Network Flow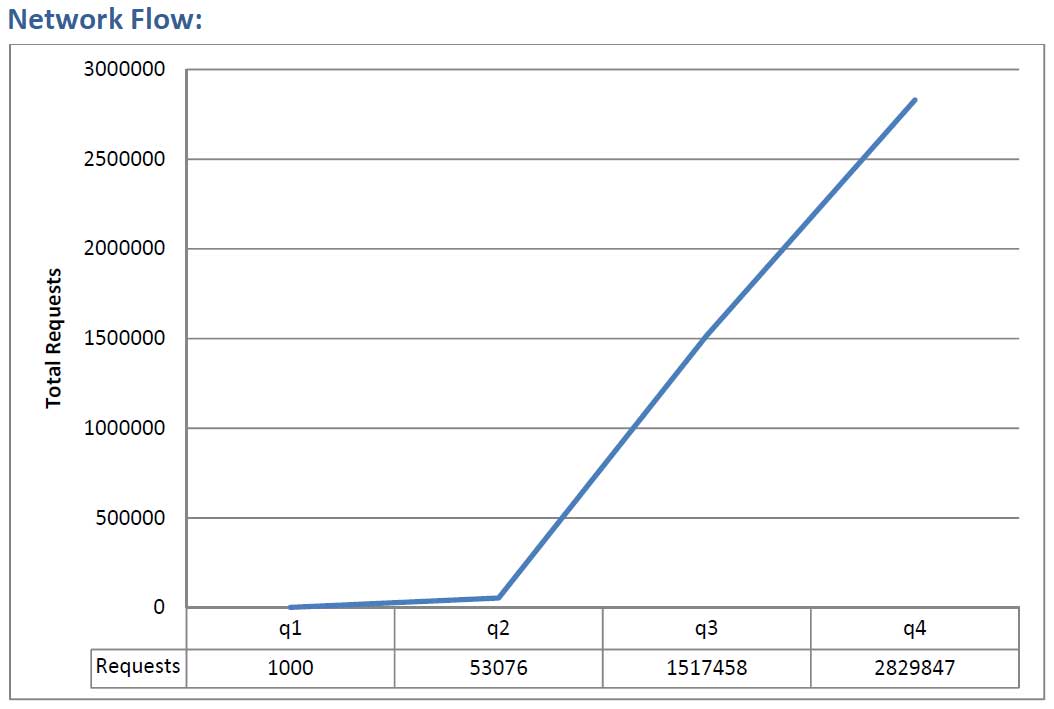 Quarterly Report
This quarter has seen an increase in activity on the system largely due to the addition of a major provider. At the time of writing this report the access attempts reported by the system for all is over 4 million.
This number is not related to unique users or unique requests, rather the total amount of requests filtered during the particular period. For example 1 user could be responsible for a large number of filtered requests in 1 day and accessing a gallery page with links to multiple blocked sites will result in several filtered requests being recorded. Additionally this number also includes requests as a result of website pop-ups, pop-unders and spam content that a user may not be aware of.
On average the system is blocking approximately 50,000-100,000 requests per day, with an average of 350,000-500,000 blocked per week and a maximum record of 2.3 million per month.
To date we have received 4 appeals from users who were attempting to access a blocked site. For all 4 of the appeals the complainant did not record the URL. This required a search of the logs be carried out to ensure that the site was correctly being blocked.
All appeals were processed by the review team and found to contain child abuse material thus the site remained on the list.
System Maintenance
We have processed two updates for the DCEFS system to improve its efficiency and tolerance to potential security threats. All updates were performed and completed within the nominated time period with no issues recorded.
Additionally, tests were performed, at the request of an ISP, to ensure the alerts system situated within the Network Operations Centre (NOC) were operational. This involved the filter team disestablishing the link between the ISP network and the filter network and then returning it to full operational status. This test took 4 minutes to complete and was completed successfully.
System Health
The system is currently filtering 1.2 million ISP clients, based on numbers supplied to the unit from the providers connected.
At present we are using approximately 1% of the resources being the filter system itself and processing 500MB-1GB of traffic per day.
System Updates
Previous information reported that another large service provider would be online prior to the completion of this report; however, internal issues have prevented this. The Censorship filter team are providing assistance to this provider to enable them to come online as soon as possible.
Planned Information Updates
The parental control products informational page has been operational for approximately three months and has seen a large amount of visits during this period. We continue to work with the public, schools and software vendors to ensure that there is information provided to the public on software available. The informational page can be viewed at: Anti-Virus and Protection Software
We have also included on the DCEFS informational page data relating to the providers currently utilising our service.
Filter Statistics to Date
| | |
| --- | --- |
| Number of Providers: | 6 |
| Number of ISP clients filtered: 1 | 1.2 Million |
| Requests Blocked: | 4.3 Million (Increase of 4.21 million) |
| Filter List Size: | 507 |
| Entries Added Since last Quarter: | 77 |
| Entries Removed: | 108 |
| Unique Sites: | 362 |
| Sites containing drawings only (CGI or Hentai): | 30 |
| Traffic: | 500MB – 1GB per day |
| Appeals: | 4 |
1 Number is based on data provided to the unit by the participating service providers