Getting RealMe Verified for the Reporting Season
20 April 2023
If you are a reporting entity supervised by the Department of Internal Affairs, it is a legal obligation under the AML/CFT Act to file an annual report by 31 August 2023. From 1 July 2023, you'll be able to file your AML/CFT annual report via AMLOnline.
We are here to make filing an annual report online easy. Before you start, you will need to verify your identity with RealMe. Please note a verified identity is an add-on to your RealMe login, and processing times for these applications can take up to 17-20 working days, so apply as soon as possible.
You can check your RealMe login to see if you are verified. Simply login to your account; if you see the green square next to 'Your identity' (below), you're good to go!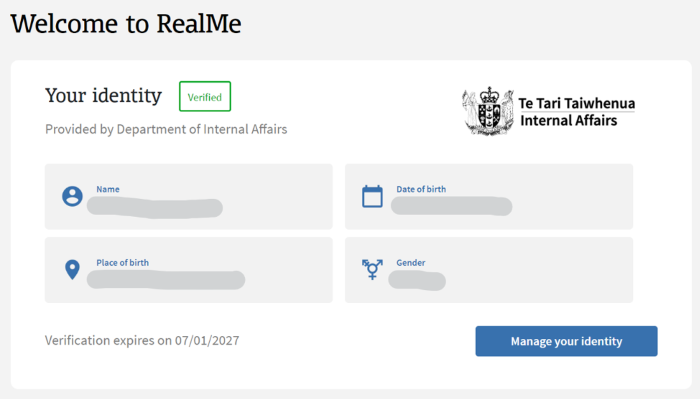 Not verified yet? No worries! It's easy to set up, but can take up to 10 working days to process. To avoid delays in your annual reporting, get your verified RealMe as soon as possible.
You can visit the RealMe website for all information and instructions.
Having trouble getting verified?
The team at the RealMe Helpdesk are available 24/7 to help you. If you are experiencing difficulties getting verified, please call the Helpdesk on 0800 664 774 or visit the RealMe website.