Lake Taupō fees review
The Department sought feedback from lake residents and users on a proposed fee increase. This submission process is now closed. You can read a summary of submissions here:
You can read about the outcome of the fees review here:
We found that a minimum of a 30 per cent fee increase in 2019 and an additional 30 percent fee increase in 2022 will recover costs. We also sought feedback on some additional issues affecting the day-to-day activities on the Lake; this includes the removal of sandbars restricting access to Nukuhau, Taupō, and Tokaanu marinas, and possible regulatory changes.
Proactive Releases
The following documents have been proactively released on the advice of the Minister of Local Government. Some information has been redacted (July 2019):
NOTE: The engagement between the Department and Genesis Energy took place in 2013. At the time the landowner, Genesis Energy, considered further consultation was required prior to work taking place. Now that the Ngāti Tūwharetoa Claims Settlement Act 2018 has passed the Department will look to re-engage with the landowner, relevant hapū and other stakeholders.
Background documents
You can view our analysis in the full consultation document (PDF, 1MB)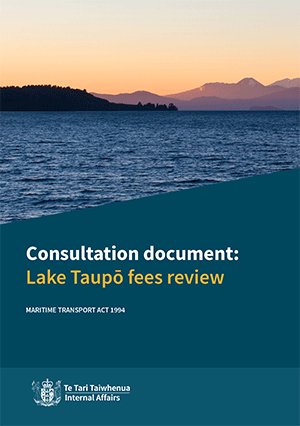 If you would prefer to read a quick overview of the consultation document, you can check out our information pamphlet (PDF, 345KB)
The following documents provide additional background information about this issue:
The submission period commenced on Friday, 7 December 2018 and closed at 5pm on Friday, 22 February 2019.