Review of options for funding the classification framework under the Films, Videos, and Publications Classification Act, 1993
Return to Online Safety Policy
SUBMISSIONS ARE NOW CLOSED. Submissions closed 2 February 2020.
Background to the review
The Office of Film and Literature Classification (OFLC) enables New Zealanders to make informed viewing choices about the media content they watch and interact with.
OFLC supports public wellbeing and harm prevention by ensuring potentially harmful material is restricted to appropriate audiences. OFLC also provides a research and education programme.
Currently, OFLC is mainly funded by the Government and fees from commercial organisations who screen material to New Zealand audiences.
The Government is seeking your views on options for cost-recovery (full, partial, or no cost-recovery) from the sector, and mechanisms (fees and/or a levy) to fund OFLC's:
current classification activities prescribed under the Films, Videos, and Publications Classifications (Fees) Regulations 1994 (the Regulations); and
new classification activities related to CVoD visual media content.
Read our media release: Classification framework funding options - consultation now open (13/12/2019)
Consultation document
The options in this consultation document apply to individuals and organisations whose classification activity is covered by the Regulations, and to CVoD providers.
This consultation document includes questions for your consideration. Your feedback will inform the Government's decision-making about the level of cost-recovery from users of the classification system, and a suitable mechanism for collecting charges. Your feedback will also be used to guide the design of the cost-recovery mechanism chosen.
The Department of Internal Affairs administers the Classification Act and is responsible for reviewing and setting fees under the Regulations.
Download the Consultation document: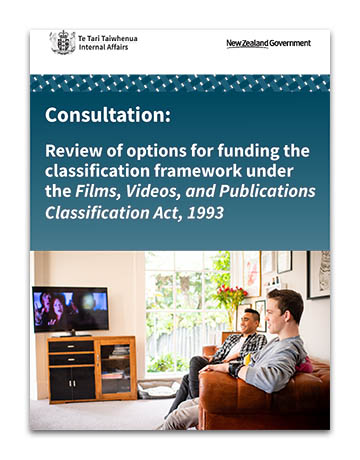 Review of options for funding the classification framework under the Films, Videos, and Publications Classification Act, 1993 (PDF, 2MB)
Have your say
We value your opinion and acknowledge that you may be able to identify additional solutions. Your feedback on the options will help direct the Department's advice and the Government's decision-making.
Consultation form
Please take time to make a submission. You can make a submission by emailing classificationfundingreview@dia.govt.nz. If you are sending your submission in PDF format, please also send us the Word Document. Please include the following information in your submission:
your name and position (if appropriate);

your organisation's name (if applicable); and
your contact details (email address and phone number).
Download the Consultation form, save to your PC, fill in and email to: classificationfundingreview@dia.govt.nz
Alternatively, you can post your submission to:
Department of Internal Affairs
Operational Services Directorate
PO Box 805
Wellington, 6140
If you are unable to email or post your submission to the Department, but you would still like to make a submission, you can drop your submission off at the reception of the Department of Internal Affairs, 45 Pipitea Street, Thorndon, Wellington, 6011.

The consultation process took place from 13 December 2019 to 2 February 2020. SUBMISSIONS ARE NOW CLOSED.
If you would like to make a submission but are unable to meet the deadline of 2 February 2020, we may be able to agree a short extension of up to five working days. Please contact the Department at classificationfundingreview@dia.govt.nz to discuss.
Please note your submission will be subject to the Official Information Act, 1982. The Department may also publish the submissions on its website, www.dia.govt.nz. If you consider that any or all of the information in your submission should be treated as confidential or is commercially sensitive, please state this clearly when you are making your submission.
Return to Online Safety Policy