CONSULTATION Safer Online Services and Media Platforms (CLOSED).
Public Consultation:
Safer Online Services and Media Platforms
You can read more about the background to this work here.
Consultation closed at midnight Monday 31 July 2023.
You can register your interest in this work to be kept up to date on future engagement
opportunities: Register here.
Your feedback on the proposed approach will shape the next stage of this work
Below is the discussion document outlining the Department's initial proposals. Over the next few months, we will analyse submissions and use the analysis to revise the proposals. There will more opportunities to have your say as the proposals progress.
Next steps
Now that consultation is closed, what will happen with submissions?
The summary and analysis of submissions won't be finished until late this year. This submission summary report will be made available on this webpage.
The analysis of submissions will feed into high-level policy proposals for the Government to consider. This will lead to the development of more detailed proposals.
We may contact submitters directly if we require clarification on their submission or would like further information from them.
Release of information
To support an open and inclusive process, we will be releasing submissions and a summary report later this year. These will be published on our website, www.dia.govt.nz. This will include the name or the name of the group who submitted, but not their contact details.
Submissions may be subject to a request to us under the Official Information Act 1982. We can withhold personal details under this Act, including names and addresses.
We will keep all submissions. The Privacy Act 2020 governs how we collect, hold, use and disclose personal information about submitters and their applications. Submitters have the right to access and correct personal information.
Discussion document and supporting information
Discussion Document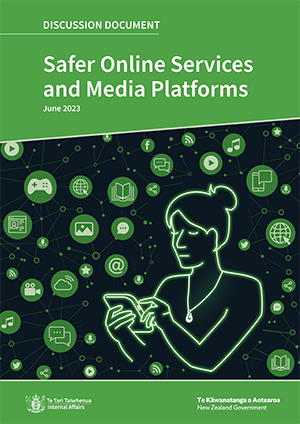 Executive Summary
The executive summary is a short summary of the discussion document.
Read the executive summary in Te Reo Māori:
View the executive summary in NZ Sign Language:
Hear the Executive summary in English:
Read the Large print accessible format Executive Summary:
Factsheet
The factsheet is an overview of the proposals in the full discussion document.
Read the factsheet in different languages
Hear the Executive Factsheet in English:
Read the Large print accessable format Executive Factsheet:
Supporting information
A proactive release of Cabinet material and key advice papers relating to the release of discussion document on modernising the regulatory framework for media and online content in Aotearoa New Zealand can be found here:
Report summarising key themes from initial targeted engagement can be found here:
Why do we need a new approach?
Our main pieces of legislation that directly regulate content are over 30 years old. Their core features are still relevant (e.g., codes of practice, protecting children from age-inappropriate content and censoring the most abhorrent words and images). But the legislation has a lot of gaps, it doesn't cover the wide range of harms people are experiencing across online services and media platforms. The system can't keep up with new technologies and we've been relying on slow, reactive interventions, which only take effect after people have already been harmed. It's time to reset the system.
We are proposing to change the way that online services and media platforms are regulated, with the major change being the way that social media platforms are regulated.
Our objective is to design a framework for safer online and media experiences across all types of platforms. We think this will:
provide better consumer protection for all New Zealanders and their communities by setting safety-based outcomes and expectations for platforms
better protect children, young people, and other vulnerable New Zealanders
reduce risk and improve safety without detracting from essential rights like freedom of expression and freedom of the press; and
promote a safe and inclusive content environment while remaining consistent with the principles of a free, open, and secure internet.
Frequently Asked Questions
For further information see our Frequently Asked Questions
Contact us
If you have any questions, please email us at sosmp_consultation@dia.govt.nz
You can subscribe to our mailing list to receive updates on this work's progress (you can unsubscribe at any time). Subscribe here.