Boating on Tāupo Moana - August 2012
The second edition of the annual newsletter from the Harbourmaster's Office is now available. This newsletter aims to keep you up to date with what's happening on and around the lake.
Download a PDF version of this newsletter or scroll down to read the HTML version.
Download 'Boating on Taupō Moana - August 2012' Newsletter
PDF, 637KB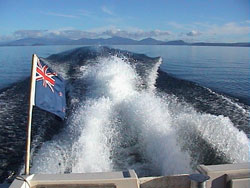 Articles in this issue
At the helm – from our Harbourmaster, Philip King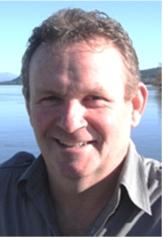 It's been a great year with many projects completed, under way or in the pipeline.
After over two years consultation the fees have increased and I am grateful for your ideas and submissions.
Taupō Boat Harbour and Nukuhau Marina berths have had their increase staggered over two years; Tokaanu and Motuoapa berths over three.
This reflects the work that has already been undertaken up north and the planned improvements for Tokaanu.
Motuoapa Marina berths are priced at 50 percent of all others which recognises the current condition of this facility, and the anticipated delay in refurbishment.
We are excited about the potential an upgrade of the Motuoapa Marina will have for boat owners, Motuoapa residents and the community at large.
The date of the increase is 27 July 2012 and your invoice has been adjusted to reflect this.
Annual boat ramp fees have also changed this year, to run for 12 months from the date of purchase.
We are delighted for the ongoing support of Tūwharetoa Māori Trust Board, Taupō District Council, Waikato Regional Council, Department of Conservation, Mighty River Power, Genesis Energy and many others.
Thank you also to our team of Honorary Enforcement Officers, Coastguard Volunteers, Police and SAR teams for your work in keeping our Lake and rivers safe places for relaxation, play and enjoyment.
Projects recently completed
Motutere - ramp upgrades
Tokaanu - jetty repairs
Two Mile Bay - realigned jetty incline to safer angle and widened jetty at user's request
Acacia Bay North - jetty repairs
Taupō Landing Reserve - new asphalt boat parking area
Three new Swim Only Zones
Directional signage on all ski lanes
Anti-slip mesh installed on wooden jetties
New 200m buoys at Hatepe, Māori Carvings, Waihi, Whakamoenga Point, Te Kopua Bay
On the horizon – 2012 coming attractions
In Budget 2011 we were very fortunate to gain funds for not only the required maintenance of the Crown owned boating facilities on Lake Taupō, but also their upgrade and improvement.
Starting from the southern end of the Lake some of the planned projects include:
| Area | Improvement | Status |
| --- | --- | --- |
| Whareroa: | Additional jetty | |
| Omori: | Jetty and ramp widening | resource consent approved |
| Pukawa: | Ramp upgrade | in consultation |
| Tokaanu: | Additional jetty | resource consent pending |
| Tokaanu: | Marina upgrade | |
| Tokaanu Tailrace: | Sediment relocation to two metres clearance | |
| Motuoapa: | Marina upgrade | |
| Three Mile Bay: | Additional jetty and ramp widening | |
| Taupō Boat Harbour: | Electrical, water and fire safety upgrade | under way |
| Taupō Boat Harbour: | Additional jetty | resource consent approved |
| Taupō Boat Harbour: | Repairs to breastworks | under way |
| Taupō Boat Harbour: | Sediment relocation to two metres clearance at entrance | |
| Nukuhau: | Electrical, water, security and fire safety upgrade | under way |
| Nukuhau: | Sediment relocation to ensure two metres clearance to berths | |
| Acacia Bay South: | Additional jetty and ramp widening | resource consent approved |
Many of the communities surrounding Lake Taupō have been requesting these upgrades for years, in some cases decades, so we are delighted to be in the position to respond.
Below gives you an idea of the process we follow to get to the construction stage.
Typically, for projects such as these, we need to work through a number of stages before construction can begin such as:
consultation with affected parties including Tūwharetoa Māori Trust Board (TMTB), hapū, iwi and interest groups
discussion with Taupō-Nui-a-Tia Management Board (eight members representing Department of Conservation, Internal Affairs, Taupō District Council, Waikato Regional Council and TMTB) to gain approval
gaining resource consent from Waikato Regional Council
procurement processes to tender and engage suitably qualified contractors and appropriate suppliers.
As you can see, there's much to do and we are making headway.
New boating fees to help improve Lake Taupō boating facilities
New fees to help improve the Lake Taupō boating facilities came into force on 27 July 2012.
Fees have not increased since 2004 so we have been limited in our ability to maintain or improve the facilities to meet the needs and expectations of our boating community. We have consulted widely over the past two years.
The new fees reflect your views and feedback and are on par with what other councils charge for boating facilities.
Key changes are:
Ramps:
daily ramp permit now $5.00 a day (was $3.80)
annual ramp fee now $90.00 (was $52.00)
a new two-week ramp permit option of $35.00
valid for 12 months from the date of purchase.
Moorings:
a new temporary monthly mooring option of $50.00
annual mooring fee now $190.00 (was $136.00).
Berths:
increases to annual berthing permits will be staggered over two or three years
fees at Motuoapa will be 50 per cent less than the other marinas recognising the marina's current condition and delay in redevelopment.
We will no longer charge an application fee for long term permits and some options that were rarely used have been discontinued:
weekly and monthly ramp permits
daily and weekly berthing permits

New one year Lake Taupō Launching Ramp Permit and new two-week Lake Taupō Launching Ramp Permit.
Some key themes from the consultation were that you wanted to see the fees staggered over two to three years and not imposed all at once, steeper increases in fees should be on berths and smaller increases on ramp and mooring facilities.
Also, the annual boat ramp permits should be valid for 12 months from the date of purchase.
Having new fees means that we can now provide better and safer boating facilities.
The fees you pay will go towards investing in the boating facilities so they can be enjoyed by all, now and in the future.
New ramp permits are now available from the Harbourmaster's office, or one of our fantastic ramp permit agents:
Acacia Bay Store
Angler's Paradise Motel
Barry Greig's Sporting World
BP Service Stations
Caltex Service Stations
Chris Jolly Outdoors
Creel Tackle House
Fishcruise Lake Taupō
Fleet Marine
Fly & Gun
Greenstone Fishing
Hire Boats Motuoapa
I-Site Taupō & Turangi
Mobil Service Stations
Motutere Bay Holiday Park
Omori Store
Rainbow Motel
Rainbow Point Store
Seriously Outdoors
Shell Service Stations
Sporting Life
Switched on Tourism
Taupō Rod & Tackle
The Store
Tightline Charters
Tokaanu Lodge Motel
Trev Terry Marine
Turangi Marine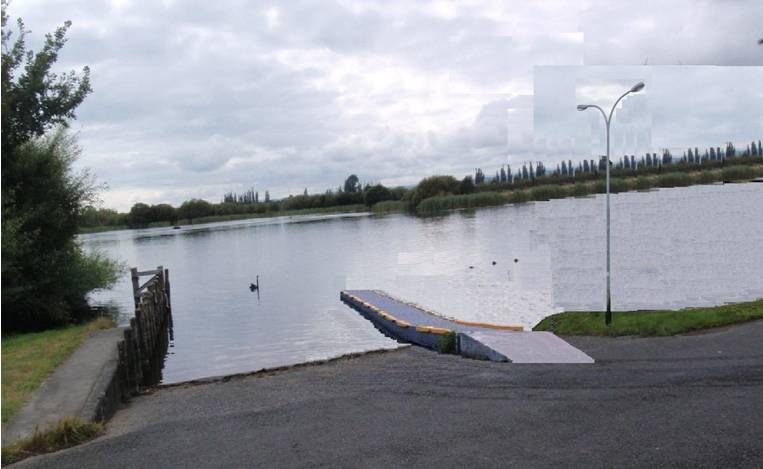 Artist impression of additional jetty and ramp widening at Acacia Bay South.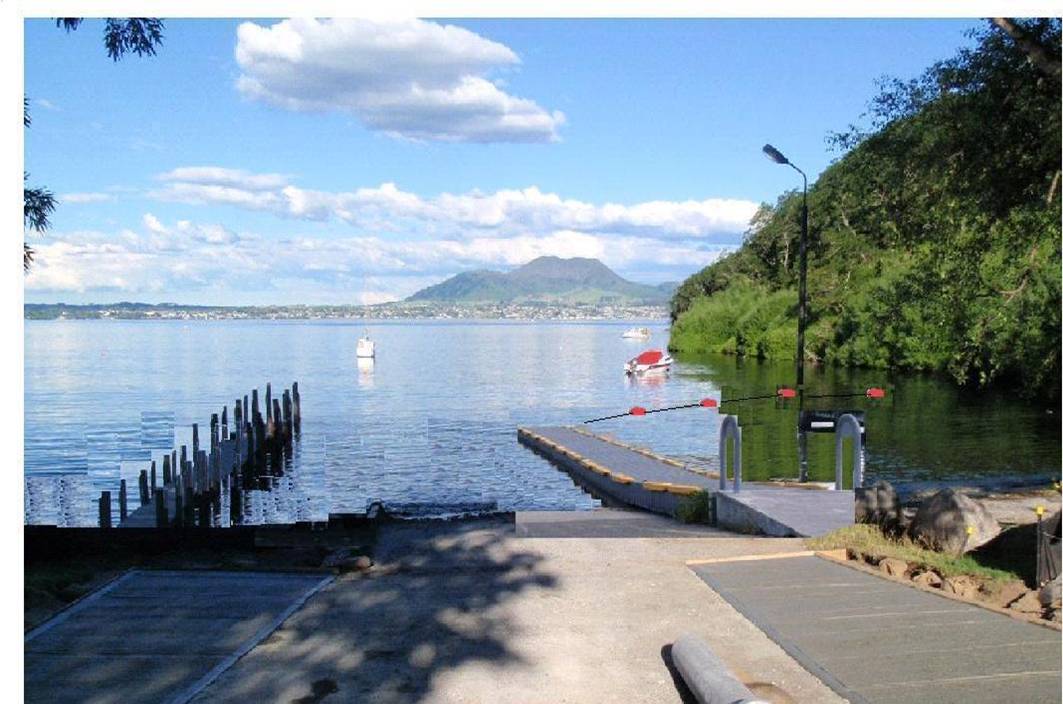 Artist impression of additional jetty to be built at Tokaanu Marina.
Naming your vessel and jet ski registration rule in effect now
Last season was primarily for promoting awareness and education of this new law.
Next season we will be focused on enforcement, so get your jet ski registered and your vessel named today!
Jet ski registration forms can be downloaded from the Waikato Regional Council website: www.waikatoregion.govt.nz/pwc
You can register your jet ski in the Harbourmaster's office. It is quick and easy, and is only a one-off fee for the life of the jet ski; so come on in and get registered!
Also, change of ownership forms must be used and there is no charge. Vessels do not have to be registered, only named.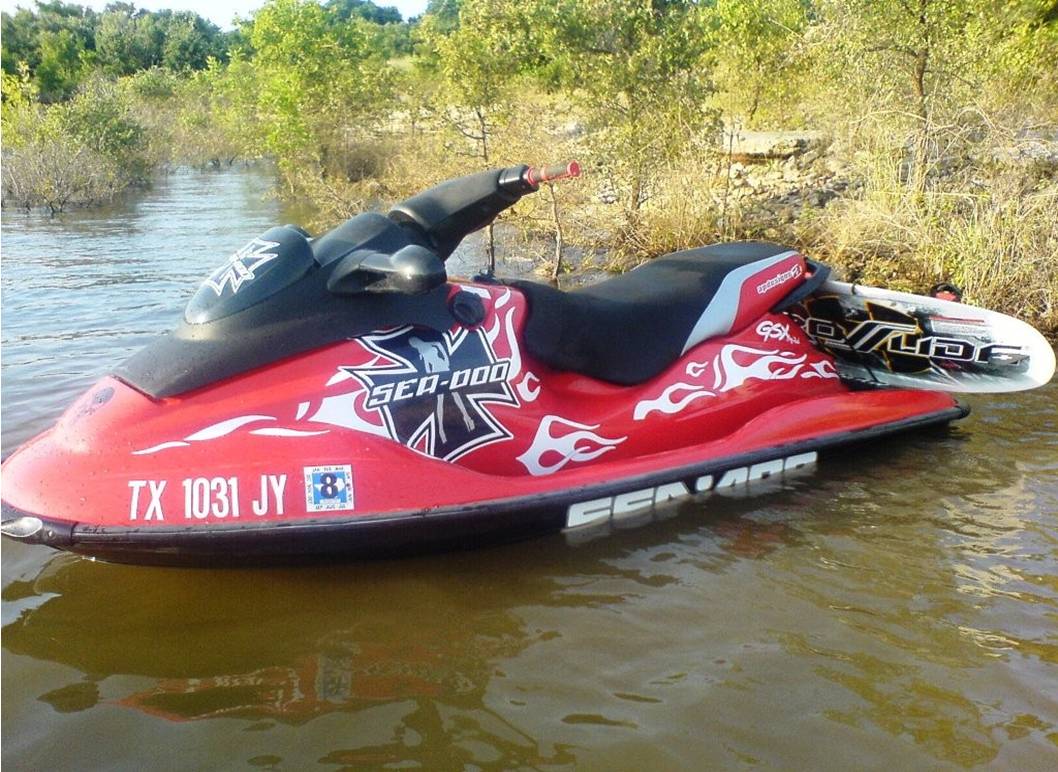 Registration numbers can be purchased and then recreated in different fonts and colours to match your jet ski
Close up on Crown projects underway
There are a myriad of projects underway this winter in the Taupō Boat Harbour and surrounding areas.
Some projects are being completed by independent contractors, others in-house by our Harbourmaster's talented team.
Taupō Boat Harbour Landing Reserve - picnic tables and chairs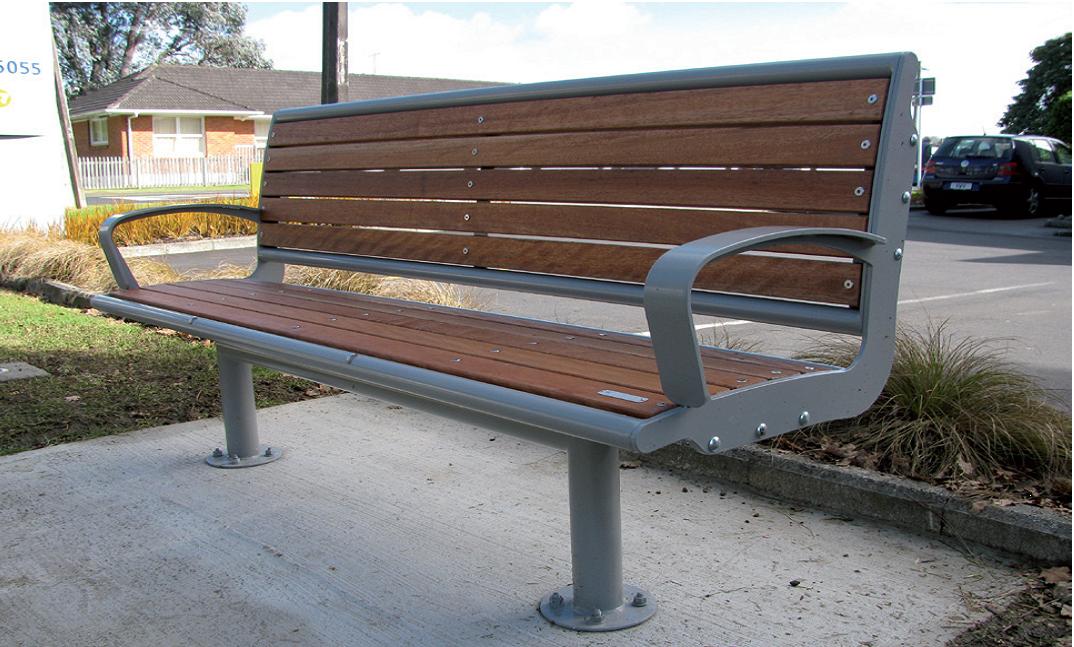 Some of the outdoor furniture earmarked to grace the Taupō Boat Harbour.
New tables and chairs are being placed around the harbour to entice people to spend more time in our beautiful surroundings, be it feeding the ducks, tucking into a hearty feed of fish and chips, or simply whiling away those sunny winter afternoons.
These will be accompanied by new rubbish and recycling bins to keep our harbour clean, green and a great place to visit.
Taupō Harbourmaster's Barge, before its overhaul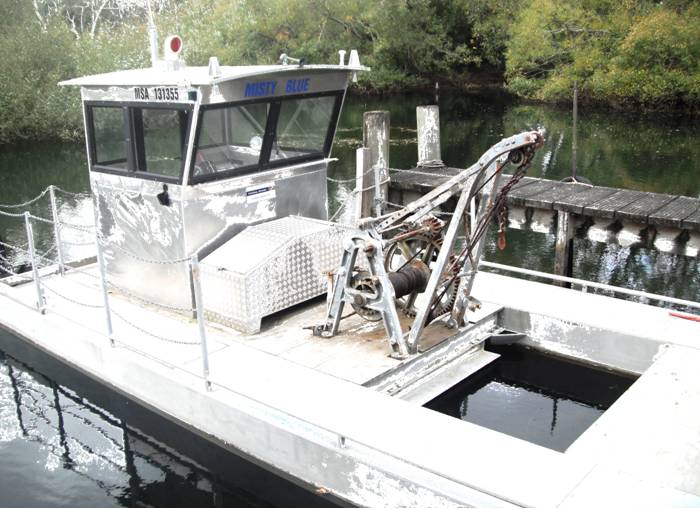 Long awaited redesign of Harbourmaster barge begins.
A complete revamp of Misty Blue is under way including a one tonne crane with a five and a half tonne payload with new pontoons.
It will be used for upgrading facilities around the Lake, installing and maintaining navigational aids, sediment transfer, and be available for a multitude of other tasks, including hiring to other agencies and contractors. requiring a barge.
Breastworks commence in marinas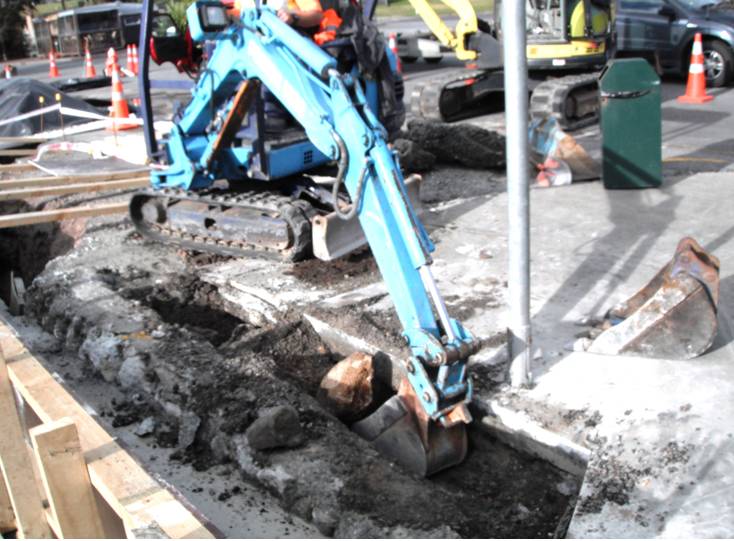 Ground is broken to get the Breastworks project underway at Taupō Boat Harbour.
Work has begun at Taupō Boat Harbour and Nukuhau marinas to upgrade the electrical supply to achieve compliance with new national standards.
Vessels requiring electrical supply will need to have a current Electrical Warrant of Fitness and run a tagged and tested cable. Check our website for further details.
Blue Mist relaunched in new patrol colours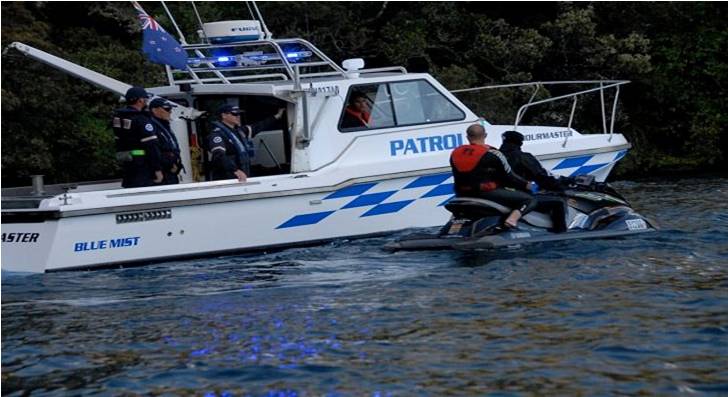 You may have noticed a new kid on the block in recent months, with the formerly decidedly orange Harbourmaster patrol boat Blue Mist receiving a long overdue paint job.
She is now resplendent in her blue and white patrol colours, and easily identifiable when assisting in search and rescue situations, and to the public while out on patrol on Lake Taupō.
The low down on the Landing Reserve
Did you know Internal Affairs, through the Harbourmaster's office, manages the area at the Taupō Boat Harbour known as the Landing Reserve?
At the very start of the Waikato River, the Landing Reserve houses the Lake Taupō Yacht Club, the green house known as the old harbourmaster's residence, public toilets, café, float plane, cruise boats and activity booking offices, along with the Harbourmaster's office and workshops.
A beautiful part of Taupō and home to 90-odd marina berths, the Landing Reserve has undergone a makeover in recent years.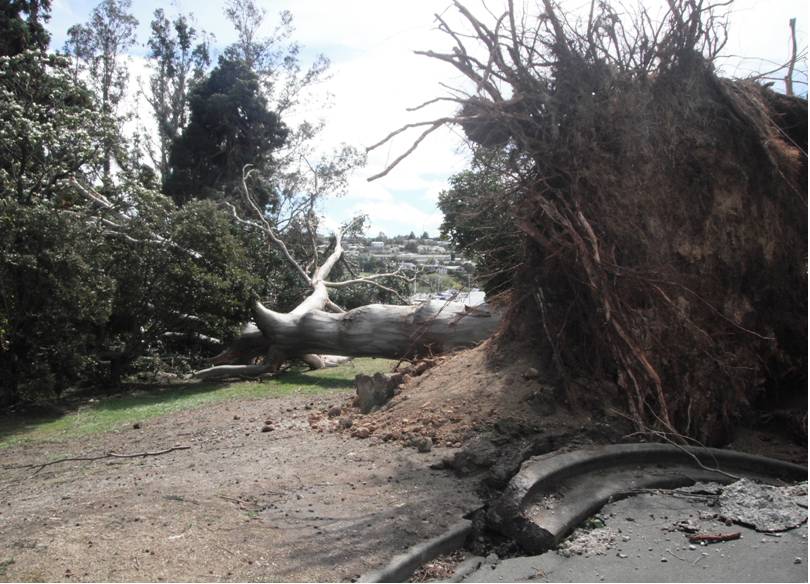 During the autumn storms several trees around the harbour toppled, narrowly missing buildings and vehicles in their path! The clean-up continues and we have removed several trees considered a danger to the public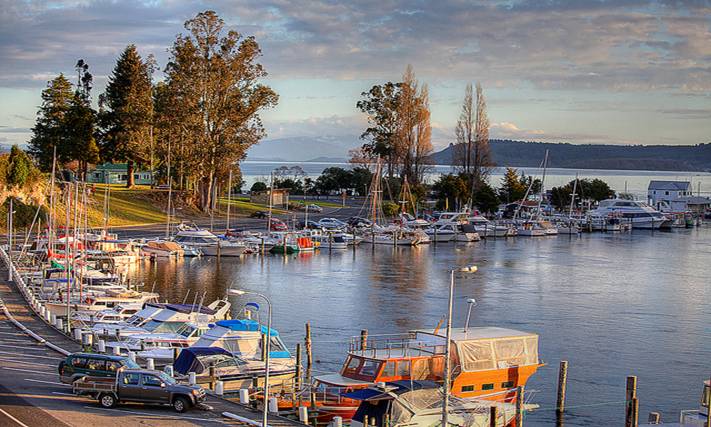 Over 100 native plants and trees have been planted, overgrown gardens cleared and several areas opened up for people to take time to enjoy the space.
Several picnic tables and settings have been introduced and we are delighted to see an increase in friends, families, locals and tourists spending time here.
As part of the electrical and breastwork upgrades for the marina, additional lighting, seating and landscaping is taking place so come on down, feed the ducks, spot a trout and enjoy this beautiful part of the world.
Your Taupō Harbourmaster team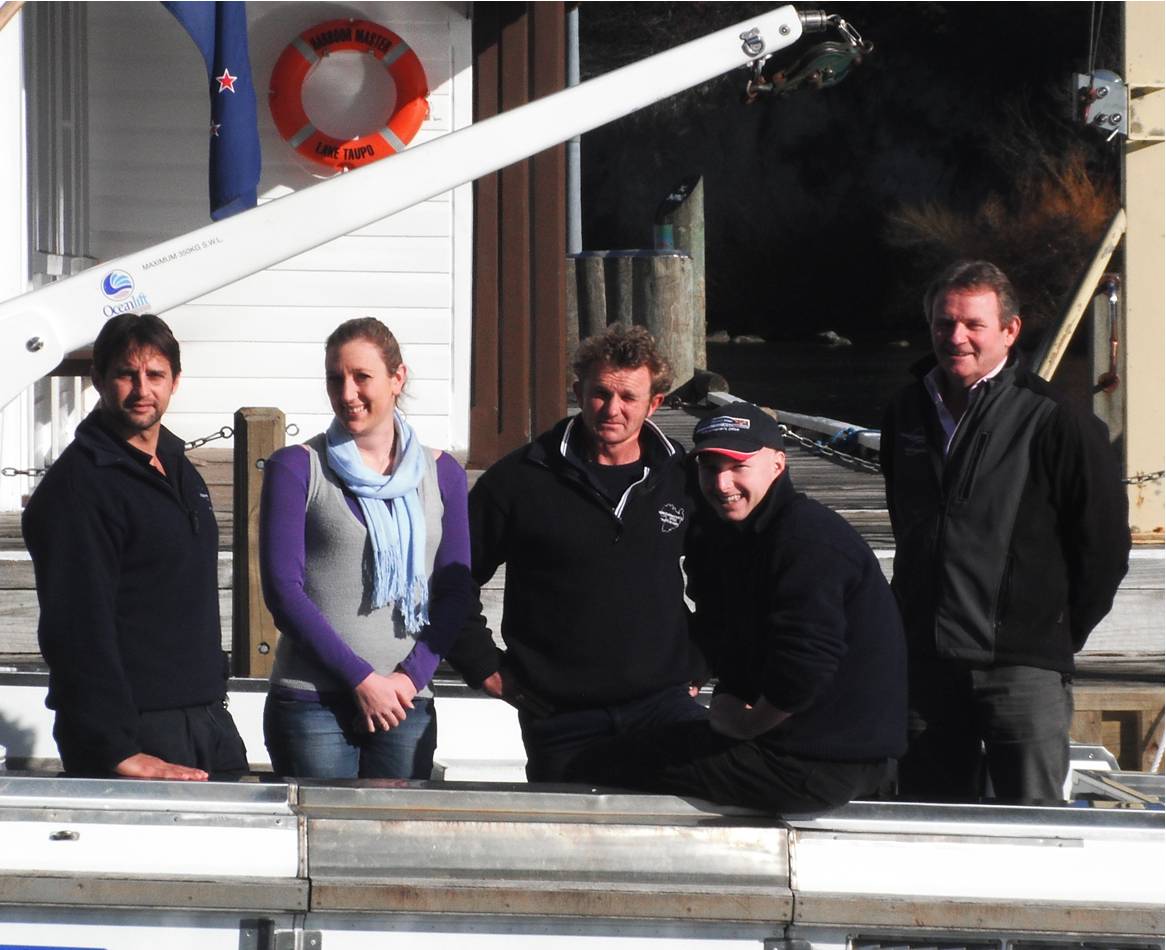 Heath Cairns (Deputy Harbourmaster), Genna-Marie Bell (Team Administrator), Alex Dickie (Navigational Safety Officer), Michael Stutz (Enforcement Officer), and Philip King (Harbourmaster Lake Taupō)
A message from the front desk
If you have moved house or changed your contact details recently, please don't forget to advise Genna in the office in order to update your details.
We are in the throes of developing an email database to eventually send out all invoices, information and this very newsletter in electronic form, saving a few trees in the process! So if you have an email address please give Genna a call in the office and advise.
At long last eftpos and credit card facilities are now available in the office.
NIWA - Water Testing in our Lake Taupō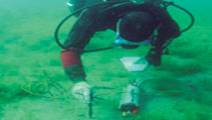 A NIWA scientist dives to the lake bed to collect water samples.
Fortnightly water tests are conducted by the Harbourmaster team on behalf of NIWA. Information gathered is fed into the annual report to Waikato Regional Council.
Each test down to 150 metres gathers information on:
dissolved oxygen concentration
temperature
conductivity
algae species
nutrients
From the data compiled over many years, NIWA is able to predict trends, raise concerns, and offer advice as required.
Information gathered is used to determine water quality and ensure that activities on and around the Lake are conducive to maintaining this precious, pristine resource for all to enjoy.
Public moorings colour change over time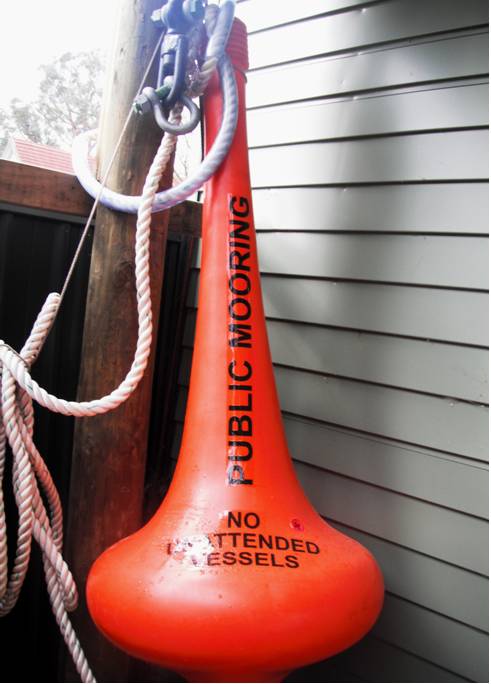 In due course all public moorings will change to a bigger, brighter and easier -to-attach-to buoy improving boating safety and enjoyment.
Boat harbour entrance gets a makeover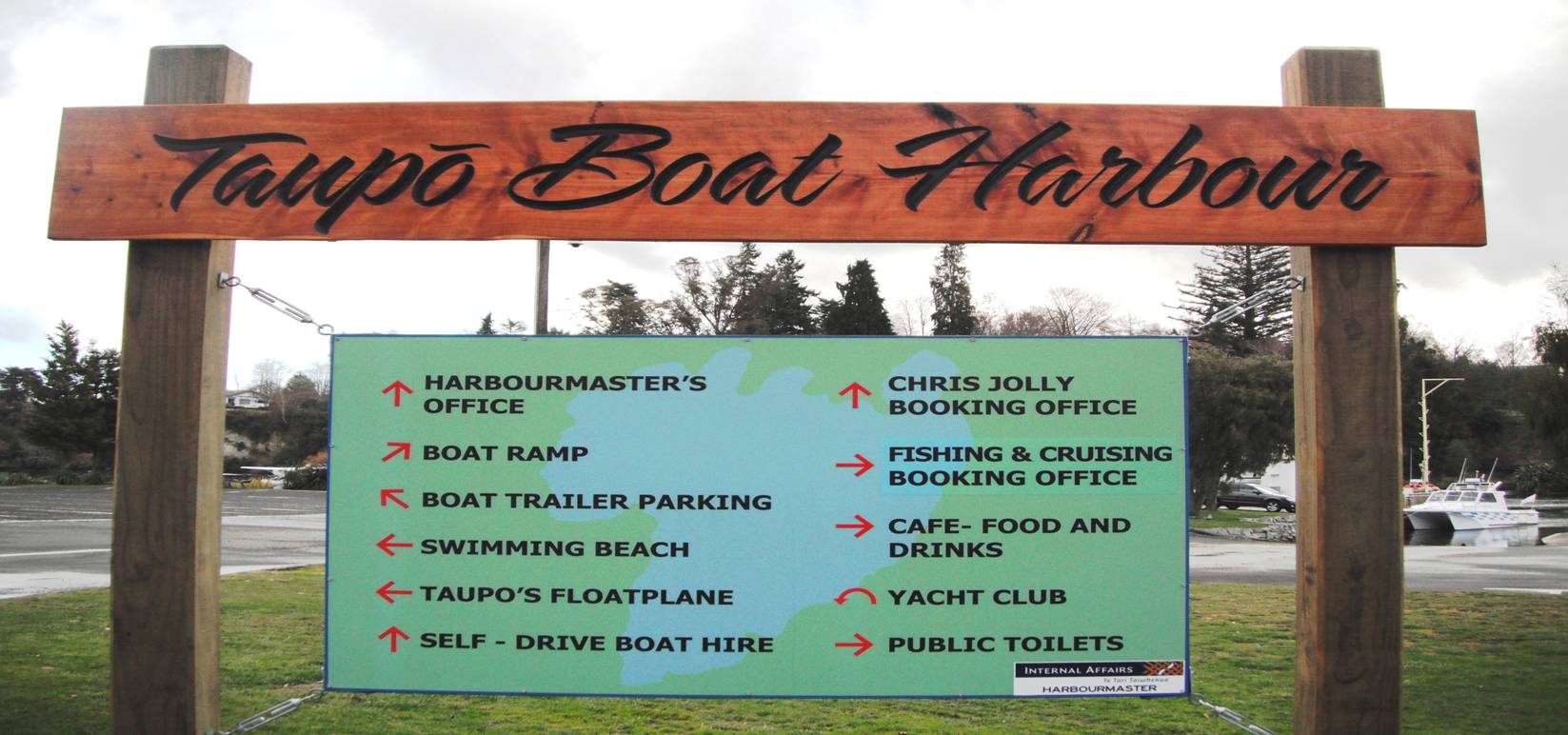 To create a memorable, warm welcome to the Taupō Boat Harbour, a beautiful slab of macrocarpa was sourced by our Navigational Safety Officer, Alex Dickie, from his family farm and designed, prepared and installed by the Harbourmaster team.
This was erected over the summer to provide an informative and eye-catching entrance to the Taupō Boat Harbour, directing the public around the harbour and becoming quite the tourist photo hotspot!
Contact us
Lake Taupō Harbourmaster's Office
75 Redoubt Street
Taupō Boat Harbour
Phone: 07 378 7176
Fax: 07 378 2718
harbourmaster@dia.govt.nz
www.dia.govt.nz/harbourmaster
*You need Adobe Reader installed on your computer to view these forms. If you are unable to open the forms we recommend you get the latest version of Adobe Reader. You can download and install Acrobat Reader for free from the Adobe website.