Measuring Agency Results
New Zealanders are at the heart of Result 10 and a key way to measure our progress is via the positive impact Result 10 is having on customers. Find out how Result 10 is helping make a difference to New Zealanders' lives: What has happened for New Zealanders
A key part of helping New Zealanders complete their transactions with government easily in a digital environment is to plot the progress of the agencies involved in Result 10. This page provides a quarterly update of the "basket" of New Zealanders' most common transactions that are suitable for transition to the digital environment.

Quarterly Measures - for April-June 2013
(Quarter Four - published September 2013)
Agency

Service

Uptake

SmartGate departures and arrivals

45.9%

Renew adult passport

33.2%

(Immigration New Zealand)

Apply for visa

8.7%

Book Department of Conservation asset

20.9%

Pay for fine on time

42.0%

Pay for Vehicle Licence

24.2%

Apply for an IRD Number

0.0 %

File an Individual Tax Return

84.2%

Pay Individual Tax

64.3%

Apply for Financial Assistance

46.1%

TOTAL AVERAGE PERCENTAGE FOR QUARTER FOUR

36.9%
The Result 10 measure gauges the overall transition of government transactions to the digital environment by measuring the progress of ten indicator transactions across eight agencies. These are regular, high-volume transactional services expected to have consistent levels of demand over the five year period. Information is collected quarterly from Department of Internal Affairs (DIA), New Zealand Police, New Zealand Customs Service, Inland Revenue (IR), Ministry of Social Development (MSD), Department of Conservation (DOC), Ministry of Business, Innovation and Employment (MBIE) (Immigration) and New Zealand Transport Agency (NZTA).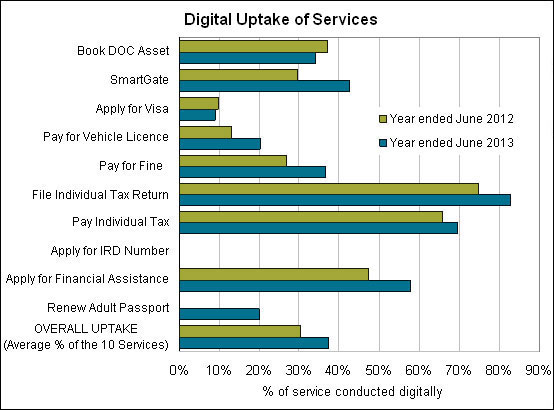 First annual baseline comparison
June 2013 marks the completion of the first full year of measuring progress towards the target, with an average digital uptake of the selected bundle of services, smoothed-out over the full year at 37.3%. This shows a 6.9% rise in digital uptake measured year-on-year, from an average of 30.4% for the year ending June 2012.
The raw number of digital transactions for SmartGate is up from 1.78 million in the year to June 2012, to 2.63 million for the year to June 2013.
The percentage of digital Vehicle Licence payments is also up from 13.1% to 20.2%; there were 438,753 more digital transactions in the year to June 2013 than the previous year.
Digital renewal of Adult Passports has proven hugely popular, with 78,354 transactions, a swift rise in percentage digital uptake from a zero base in September 2012 to an average of 20% for the whole year.
Digital applications for Financial Assistance show a substantial increase of ten percentage points in the annual average to 57.7%, up in numbers by 76,122 to 855,286.
Uptake for Police Fines has seen a ten point rise from 27% to 36.7%, and the percentage of digital visa applications has doubled from a low base of 4.1% to 9.1%.
What happened in the Fourth Quarter
The figures for the period April to June 2013 show a slight overall downturn of 4.1% over the previous quarter, with an average of 36.9% of measured transactions completed digitally, compared to 41% in the March quarter. (Note calculation of the average for the June 2013 quarter is different from calculation of the average figure for the June 2013 year).
As expected, the data varied over the quarterly reports with seasonal and market-influenced customer behaviours. The quarterly reports commenced with 32.4% in the September, rose to 38.6% in December, and again to 41% in March 2013, then dipped to 36.9% in June 2013.
Of course, seasonal fluctuations in customer behaviour should be expected, and this is evident in the quarterly figures from Inland Revenue (the Tax year ended in March), DoC asset bookings (raw total bookings fell from over 550,000 in the March Quarter to 201,000 in the June quarter), and applying for Financial Assistance (the raw total fell from 512,208 to 307,726 over the period).
Note 'Apply for IRD Number' currently shows zero percentage digital uptake. This service is not currently available online, pending resolving authentication and verification issues (including the confidentiality of IRD numbers). Inland Revenue is working with other agencies on a secure combined approach to online authentication.
New Zealand Customs Service
Transaction: SmartGate – Arriving and Departing Passengers
Digital uptake of the service for period Apr-Jun 2013: 45.9%
How is it being implemented?
SmartGate is an automated passenger clearance system for New Zealand and Australian passport holders arriving at, and leaving, major international airports in New Zealand and arriving at Australia's international airports. It delivers a smoother experience at the border for International travellers and efficiency gains for the Customs Service.
Recent Progress
The number of arriving and departing passengers choosing to use SmartGate in 2012/13 continued to grow over the previous year. In June 2013:
Arrivals: 120,673 passengers used SmartGate – 67% of all passengers eligible to use SmartGate and represented growth of 14.3 percentage points over June 2012.
Departures: 105,575 passengers used SmartGate; this represented a growth of 9 percentage points over June 2012.
In other news in the June quarter:
At Auckland International Airport, Customs tested the prototype SmartGate Plus on departure. Passengers uptake has been good, it's quicker and easier all round.
A new Departure Card is now in use across New Zealand's international airports. It makes things easier for passengers, while producing higher quality data for the three agencies involved (Customs, Statistics NZ and Immigration NZ). This new paper card is the first step to fully automating the process for collecting Departure information.
Future Plans
The New Zealand Customs Service forecasts continued increases in digital uptake alongside growth in the number of passengers with electronic passports. It will focus on promoting the technology upgrades listed above, improving passenger experience and uptake, organisational efficiency and risk management, and automation of the departure information process will be further advanced.
Link for further information
Department of Internal Affairs
Transaction: Renew Adult Passport
Digital uptake of the service for period Apr-Jun 2013: 33.2%
How is it being implemented?
The Department of Internal Affairs is developing new systems and processes to issue passports, aiming to improve passport security and service to the public in a more cost effective manner. In November 2012, the Department launched a new service enabling the majority of adults to renew their passport through www.passports.govt.nz. The fee for the new service is lower than that for paper-based applications.
Recent Progress
The service continues to be positively received. In the three month period to June 2013, over 36,000 adults renewed their passport using the online service – up from 31,600 in the March quarter.
Future plans
The Department will continue to fine tune the operation of the new online service, and to promote its use.
Link for further information
http://www.passports.govt.nz/Adult-passport-renewal---form
Ministry of Business, Innovation and Employment – Immigration New Zealand
Transaction: Apply for visa
This includes all applicants for temporary entry class visas and residence visas but excludes those for refugee and protection category visas
Digital uptake of the service for period Apr-Jun 2013: 8.7%
How is it being implemented?

Visa applications received electronically are limited to just a few types, and consequently represent a small percentage of the total. Large quarterly fluctuations can therefore appear. So in this quarter there was a downward fluctuation in the 'percentage digital' measurement from 9.9% to 8.7% because fewer people generally apply to enter New Zealand in winter. There were seasonal drops in Student visas (which usually peak near the starts of school and university terms), and Working Holiday Scheme visas, which have quota limitations often exhausted very quickly (sometimes minutes).
Recent progress
In May 2013, Immigration New Zealand introduced a new online service – Visa Option Check (VOC) (https://visaoptions.immigration.govt.nz/Home/Landing.aspx) – which allows users to check eligibility to apply for a visa. VOC usage is trending significantly upward and performance is solid. While this doesn't yet contribute to the percentage digital, it will help encourage digital uptake when our new online products are introduced.
Immigration New Zealand has built its first student online form and is working on temporary work forms. By the end of 2013 it intends to demonstrate the Student Online Application to representative users, to verify usability and seek feedback. Migration and cleaning of around 45 million identities from the Application Management System into the Immigration Global Management System will then occur.
Future plans
The Ministry's range of online products will increase during the last quarter of 2013, to include visa applications for Student and Temporary Work. This development is expected to increase the overall digital uptake progressively from the first quarter of 2014.
Link for further information
http://www.immigration.govt.nz/
Department of Conservation
Transaction: Book Department of Conservation Asset
This includes all individual bookings for Department of Conservation recreational assets, such as huts, Great Walks, campsites and permits.
Digital uptake of the service for period Apr-Jun 2013: 20.9%
The percentage uptake is lower than the previous quarter due to seasonality factors, including the conclusion of the Great Walks tramping season and lower levels of interest in camping during winter.
How is it being implemented?
DOC is implementing several projects to improve its online service offering. The key project relating to bookable assets is 'Book and pay for facilities and experiences online'. A number of DOC assets are already bookable online, including some huts and campsites.
Recent Progress
DOC has made progress in setting up a new booking system, with a vendor now confirmed. DOC expects the system to improve the user experience and increase the number of assets and locations that are bookable online.
Future Plans
The next three months will focus on communication with users, data modelling, security, training and operational detail for the system. Implementation will occur in two phases:
In September, DOC will introduce the new booking system for major campgrounds in the Abel Tasman, Nelson and Marlborough areas.
In April 2014, DOC will bring Great Walks, backcountry huts and campsites, cabins, huts, lodges and other campsites into the booking system.
Link for further information
http://www.doc.govt.nz/parks-and-recreation/places-to-stay/backcountry-huts-by-region/
New Zealand Police
Transaction: Pay for Fine
This includes all infringements that are paid on time directly to the Police. This excludes all infringements that are forwarded to the Ministry of Justice for collection.
Digital uptake of the service for period Apr-Jun 2013: 42.0%
How is it being implemented?
Credit Card Payments can be made directly through the Police web site: Police Infringement payments online.
The site provides details of how to pay via internet banking services on the Infringements web page. All infringement and subsequent reminder notices advise that the payments can be made electronically via the website.
Recent Progress
The uptake in use of the digital channel saw a quarterly increase from 39.6% to 42.0%.
Future plans
Electronically delivered infringement notices are being upgraded to specify that the fine can be paid through Internet Banking.
Link for further information
https://www.police.govt.nz/service/road/infringements.html
New Zealand Transport Agency
Transaction: Pay for Vehicle Licence
Digital uptake of the service for period Apr-Jun 2013: 24.2%
The percentage of people paying for their vehicle licence online has increased from 20.1% in the March quarter.
How is it being implemented?
The NZ Transport Agency (NZTA) is making it easier for customers to comply with regulations and is encouraging them to do more transactions online. The agency recently surveyed customers to establish the issues in online transactions and what could be done to improve its service.
Recent progress
The recent increase in digital uptake of this transaction is predominantly driven through better publicity of that option through phone and mail channels. A campaign promoting the transactional service has been implemented offering those who relicense online the chance of a monthly prize for one lucky winner of the value of their annual licence fee. The promotion is running from May 2013 to April 2014, publicised via mail and the website. Customer feedback has also indicated a steady improvement in the quality of the electronic channel.
Future plans
NZTA have a few initiatives to lift online uptake; being part of the NZPost UPost pilot, advertising banners on the govt website http://newzealand.govt.nz, addressing customer pain points for the online channel.
In the September quarter, the Vehicle Licensing Reform Annual Vehicle Licensing project policy investigation will be completed and recommendations to lift online and on time customer transactions will be presented to cabinet. This will allow NZTA in to design a package of the required business and customer tools.
Link for further information
https://transact.nzta.govt.nz/transactions/RenewVehicleLicence/entry.aspx
Inland Revenue Department
Transaction: Pay individual tax
Digital uptake of the service for period Apr-Jun 2013: 64.3%
How is it being implemented?
Inland Revenue is improving ways for customers to pay individual tax electronically, and to remove barriers to paying online. This includes:
Giving customers options to pay via online banking and by debit and credit cards
Providing clearer information and secure personal access through IR's website.
Recent Progress
Progress in the June Quarter included:
New self-service work-stations opened at the NZ Government office in Christchurch, enabling more people to open personalised myIR accounts
Individuals' digital payments continued to grow with an increase of 53,401 on the same quarter last year. The annual total grew to 69.5% - an increase of 3.8 percentage points on last year
Work continued on aligning processes for electronic and cheque payments, to eliminate a current benefit for customers paying by cheque and encourage further digital payments
Online, direct mail and targeted text message campaigns continued, encouraging customers to use online payment channels.
Future plans
Customer responses to new services at the NZ Government office in Christchurch will be evaluated, and further initiatives encouraging digital take-up will be trialled
Inland Revenue will continue aligning cheque payments with electronic standards to encourage further electronic payments
Continuing promotion to customers of Inland Revenue's mobile web application, secure online services and Voice ID
A new eAlerts service for customers filing GST through myIR will go live in July. While eAlerts about payments due are for business customers (and so not captured in this measure) they may extend to individual customers in future.
Transaction: File individual tax return
Digital uptake of the service for period Apr-Jun 2013: 84.2%
How is it being implemented?
Inland Revenue uses a range of activities to promote online filing and help customers file tax returns electronically. These include:
Making secure online services as easy as possible to use.
Highlighting online services in IR's web and print publications, paid advertising and text messages.
Community-based staff and partner organisations demonstrating online filing to customers and working with tax agents to encourage online filing of individual returns.
Contact centre staff advising callers about the benefits of online filing and how to do it.
Recent Progress
Self-service workstations opened at the New Zealand Government office in Christchurch. Staff at the office guide customers through processes like registering for secure online services and basic transactions to give customers the confidence to continue using government digital services at home
A new business-to-business technology channel was introduced for personal tax intermediaries so they can transact with Inland Revenue more quickly and efficiently on their clients' behalf
Growing numbers of taxpayers recognise the convenience of e-filing: 84.2% of individual tax returns were filed digitally this quarter. For the full year, 82.8% or 902,954 returns were filed digitally, exceeding last year's total of 74.8%
Inland Revenue continued to promote digital filing to customers through contact centres, community-based staff demonstrating online applications, and via a range of other targeted and online communication.
Future plans
Further cross-government initiatives to encourage digital uptake will be trialled at the New Zealand Government office in Christchurch, and customer responses will be evaluated
Inland Revenue will continue marketing and further digital campaigns to encourage use of the myIR secure online site and digital filing
Staff will continue to demonstrate online applications, and work with tax agents to promote e-filing among agents' clients.
Transaction: Apply for an IRD number
Digital uptake of the service for period Apr-Jun 2013: 0%
NB: Currently individuals can't apply online for an IRD number (although companies can receive IRD numbers online via the Companies Office) so this is a significant stretch target.
How is it being implemented?
Options for applying for IRD numbers digitally are being explored as part of Inland Revenue's overall transformation programme. Identity verification, security and confidentiality issues need to be resolved before a secure digital application process can be designed and implemented.
Recent progress
From July 2013, parents can opt to apply for their child's IRD number on the same form that they use when they register the birth with DIA. They just tick a box on the form. This paper-based process is the foundation for future digital applications and means parents no longer need to make a time-consuming separate application for a child's IRD number
DIA and Inland Revenue are exchanging some information relating to births to support the Child Support reforms. This facilitates the identification of parentage for dependent children and the allocation of IRD numbers for children who don't yet have them.
Inland Revenue and Ministry of Business, Innovation and Employment (Immigration) are exploring how IRD numbers could be issued digitally in future as part of immigration management when people enter the country. A digital solution for applying for IRD numbers and verifying applications via MBIE's new Immigration Global Management System may be available by early 2016
Future plans
Publicity to customers about the easy option of obtaining IRD numbers for new-borns via DIA's Birth Registration process, through news media, publications, online parent forums and other digital channels
Inland Revenue and MBIE staff will start to scope the work required for issuing IRD numbers digitally to immigrants and explore future digital process opportunities.
Link for further information
]
Ministry of Social Development
Transaction: Apply for Financial Assistance (for example, benefits)
This includes applications for financial assistance through Work and Income, StudyLink and Senior Services.
Digital uptake of the service for period Apr-Jun 2013: 46.1%
How is it being implemented?
Online tools are available to MSD clients that enable them to check their entitlement to and apply for financial assistance.
(Other online tools are also available for MSD clients to manage their personal details through a secure online account, declare income online, search for work and check entitlement to other types of services available to them.)
Links for further information
Recent Progress
The Ministry has continued investment to improve the security of online information, self service kiosks were piloted and the RealMe business case was approved.
Work and Income
Work to add new services to My Account continued.
Project planning to implement RealMe second-factor authentication continued.
The draft Digital Strategy was created.
StudyLink
The online services strategy was finalised (subject to focus group research)
Online channels were promoted through an email campaign as part of the 'second semester' communications plan.
During 2012/2013 a Ministry wide mobile application platform was developed. A StudyLink mobile application is now being built on this enterprise platform. This will be advanced in 2013/2014.
The students' adoption of the igovt logon was continued to be supported.
Communications alerting clients to the rebranding of igovt to RealMe from July 2013 were made in conjunction with DIA.
Senior Services
The development of new web forms and enhancement to the online 'Ask a question' tool (http://msdsupport.custhelp.com/app/answers/list) continued.
Future plans
The Ministry will roll out of self-service kiosks nationally and initiate planning for future enhancements. There will be continued investment in improving the security of online information. A solution and deployment plan for straight-through processing will be confirmed.
Work and Income
Work and Income will continue work on new services for My Account .
A draft digital strategy will be reviewed by Senior Work and Income Management.
The development and testing of tools to support the transition of existing clients to RealMe is underway.
StudyLink
StudyLink will:
undertake online services focus groups.
work with MSD IT to develop vision and functional specifications for a MyStudyLink mobile application.
Support the transition to RealMe.
Implement a Budget 2013 email campaign to all clients.
Refresh peak season communication plans focussing on the online channels.
Senior Services
Senior Services will
test the new web form and 'Ask a question' functionality
continue to work with Work and Income on shared system improvements (such as My Account and RealMe authentication).