Measuring Agency Results
New Zealanders are at the heart of Result 10 and a key way to measure our progress is via the positive impact Result 10 is having on customers.
A key part of helping New Zealanders complete their transactions with government easily in a digital environment is to plot the progress of the agencies involved in Result 10. This page provides a quarterly update of the "basket" of New Zealanders' most common transactions that are suitable for transition to the digital environment.

Quarterly Measures - for April-June 2016
Agency

Service

Apr-Jun
2015

Jan-Mar 2016

Apr-Jun 2016

Department of Conservation

Book Department of Conservation asset

23.3%

40.8%

24.6%

NZ Customs Service

SmartGate departures and arrivals

54.6%

57.2%

61.1%

Ministry of Business Innovation & Employment

(Immigration New Zealand)

Apply for visa

9.2%

20.4%

21.1%

New Zealand Transport Agency

Pay for Vehicle Licence

34.9%

32.6%

36.7%

New Zealand Police

Pay for fine on time

54.9%

59.3%

60.9%

Inland Revenue

File an Individual Tax Return

91.3%

94.3%

87.7%

Pay Individual Tax

80.3%

83.7%

84.1%

Apply for an IRD Number

21.5%

24.0%

26.7%

Ministry of Social Development

Apply for Financial Assistance (1)

37.8%

60.9%

46.8%

Department of Internal Affairs

Renew adult passport (2)

45.0%

48.9%

47.1%

TOTAL AVERAGE PERCENTAGE FOR THE QUARTER

45.3%

52.2%

49.7%
(1) A change in reporting methodology for the transaction Apply for Financial Assistance came into effect during October-December 2013. It resulted in a decrease in the digital uptake of this transaction across all periods.
(2) The figures shown for Renew Adult Passport are estimated.
About these figures
Progress towards the target has now been measured for sixteen quarters and started with a base figure of 29.9 per cent in June 2012.
The result for the April to June 2016 quarter shows that an average of 49.7 per cent of all transactions measured was completed digitally during the quarter. This is:
4.4 percentage points (or 9.7%) up on the comparable quarter of April to June 2015 (45.3% digital uptake). Nine of the ten indicator transactions showed increases on that quarter.
2.5 percentage points down on the previous quarter of January to March (52.2% digital uptake) with six indicator transactions reporting an increase in digital uptake. Seasonal variations have traditionally seen this quarter fall below the January to March quarter.
There are seasonal influences on some of the measures as different customer segments have different transactional patterns. For example, Inland Revenue filing and paying measures are influenced by the extent to which it is peak filing / paying season for tax agents. The below graph shows a seasonal breakdown by quarter, which shows a year on year increase by quarter.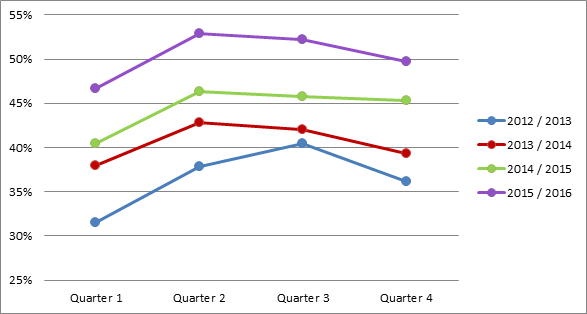 For more information on these figures see: What has happened for New Zealanders
For earlier quarterly reports see: Archived Result 10 measurements