Resource material › Corporate Publications › Statement of Intent 2014-18Tauāki Whakamaunga Atu
Strategic Objectives
On this page
The Department has a strong tradition of delivering core services that are valued by New Zealanders. We have a unique role in nurturing the country's nationhood, identity and culture. The Department maintains the collective memory of the nation and has a leadership role in shaping the way people will interact with government in the future.
The Department provides services directly to people and communities to strengthen the capability, resilience and prosperity of New Zealand society. We also provide services to government and other public sector organisations, supporting their ability to deliver outcomes and building trust and confidence in the performance of New Zealand's system of government.
These foundational activities provide the Department with the basis for delivering our central priorities: leading the transformation of all-of-government ICT (including information management), and lifting public sector performance in order to enhance citizens' experience of government.
Our Outcomes and Objectives
The long-term outcomes we are seeking to achieve for New Zealanders are:
Outcomes
New Zealand's diverse people and communities/

hapū/iwi

are resilient and prosperous
New Zealand is recognised for creating, sharing and using knowledge for social, cultural and economic well-being
The people of New Zealand have a strong and valued national identity, culture and heritage
These are supported by our objective of enhancing trust in government and confidence in the performance of public sector organisations.
Our outcomes framework (see diagram next page) reflects the diversity of our services. We will be looking to refresh our outcomes and impacts over the medium-term to ensure they are still relevant and fit for purpose.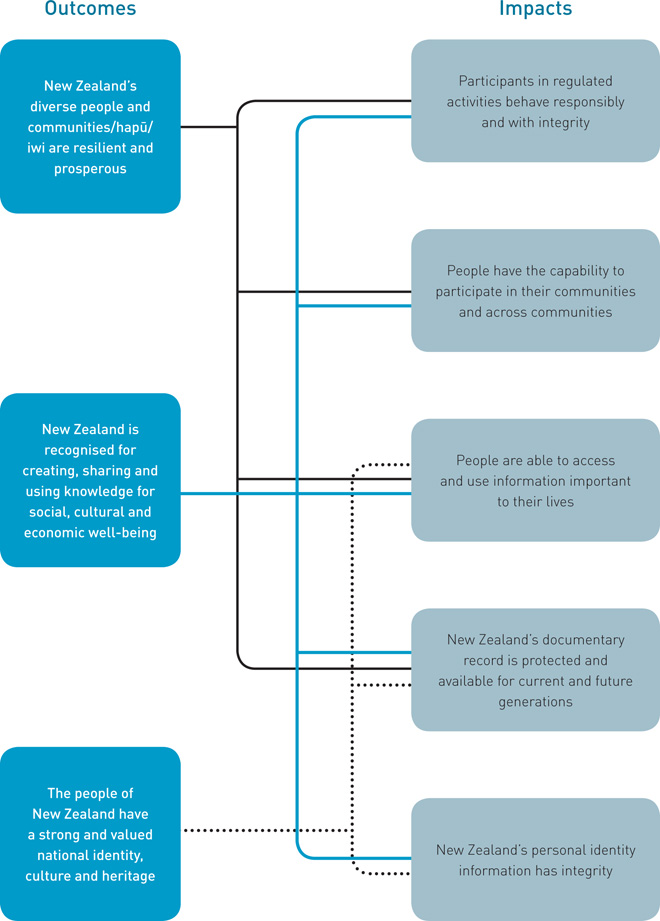 Contributing to Government Priorities
The Government's priorities are:
Responsibly managing the Government's finances
Building a more productive and competitive economy
Delivering better public services within tight financial constraints
Rebuilding Christchurch.
The diversity of the Department's roles and functions means we can contribute to these priorities in a range of ways. The following table further highlights how we will contribute to Government's goals through the priorities of our Ministers over the medium-term.
Portfolio
Ministers' Priorities (2014/15)
Government Priorities
Internal Affairs

Better Public Services: Result 10

Better Public Services through functional leadership of all-of-government ICT

Making it easier for citizens to prove their identity, particularly in a digital environment

Improving security of data

Improving the efficiency and effectiveness of emergency services

Improving the regulatory framework for Class 4 gambling

Managing the nations collective memory and knowledge through the National Library and Archives New Zealand

Better public services;

Productive economy

Ministerial Services

Effective Visits and Ceremonials Office programme

Efficient VIP Transport service

Integrated service delivery with other parliamentary agencies

Better public services;

Responsibly managing finances

Local Government

Improving the efficiency of the local government system through completion of the Better Local Government Reform programme

Better public services;

Productive economy

Ethnic Affairs

Reaping the benefits of the skills and connections of our ethnic communities

Responding to the needs of multi-ethnic and multi-faith communities

Maintaining and building New Zealand's reputation for social harmony

Better public services;

Productive economy

Racing

Ensuring the sustainable future of the racing industry

Productive economy

Community and Voluntary Sector

Leveraging charities functions to provide better services to communities

Community-led Development programme

Kia Tūtahi

Giving effect to the Government Position Statement on supporting the growth of Social Enterprise

Better public services;

Productive economy
The Government's priority of lifting the performance of the State sector has a significant influence on the Department's strategic direction. We will continue to change the way we work over the medium-term, as Government looks to the Department to lead and influence a transformation in the delivery of public services to New Zealanders.
The Department's resources and expertise in technology, the delivery of citizen-focused services and the management of government and New Zealander's identity information, enable us to perform this function. We have strong relationships with communities through our local government, regulatory, information management, and advisory roles. Our range of functions connects us to all parts of the public sector.
As the Government Chief Information Officer (GCIO), the Department's Chief Executive is the functional lead for all-of-government ICT. We are orienting our strategy and capability towards delivering our strengthened mandate to provide leadership in technology and strategic information management.
The location of these responsibilities and leadership roles within a single agency means that we are playing a central role in the public sector. Although not a central agency, many of our responsibilities and accountabilities align with the role of a central agency. These include setting strategy and standards, and providing assurance to government at a whole-of-system level. The Department looks both 'outward' to provide essential civic services to citizens and communities, and 'across' the system to support government to operate more efficiently and effectively.
Better Public Services
The Department's key contribution to the Government's priorities over the medium term will be our contribution to better public services. Over the next four years, we will lead a transformation in the way citizens experience government services. More effective use and investment in ICT to deliver government services will increase the efficiency of the public sector and improve outcomes for all New Zealanders.
Through the ICT Strategy and Action Plan, the GCIO will achieve greater collective impact across government by setting system-wide strategy, and developing and driving uptake of common capabilities. A cultural shift towards smarter use of information and technology and greater collaboration between agencies will reduce costs and improve services to the public.
The principle behind this transformation is 'centrally led and collaboratively delivered', and we will be driving more integrated ICT investment across government. The GCIO has been given a strengthened mandate to direct priorities and accelerate the uptake of common capabilities1 to support this work.
Better access to information is critical to transforming the system of service delivery. Success relies on security, trust and confidence in the way government invests in technology systems and manages New Zealanders' information, and so establishing and delivering an enhanced system of assurance to government and the public is a significant priority. The newly created function of a Government Chief Privacy Officer within the Department will greatly assist in leading and driving this work.
Aligned with this, the Department is responsible for Better Public Services Result 10. We are implementing a blueprint to guide the design and implementation of services that make it easier for New Zealanders to interact with government in a digital environment. This is a long-term initiative, requiring innovation and collaboration across agencies to succeed. Enabled by services such as the RealMe identity data service, which allows New Zealanders to use their identity information more conveniently and securely across a range of services (both government and private), we are working closely with Result 9 (led by MBIE) to place people and businesses at the centre of service design. The work on both Results 9 and 10 is also deeply intertwined with the 'services are digital by default' focus area of the ICT Strategy and Action Plan.
Communities and Services
Beyond this, the Department's focus on building stronger and more resilient communities will contribute to both the Government's public service, and economic goals. The Department undertakes a range of diverse activities which support strong and more resilient communities. In some areas the Department delivers services which directly benefit communities. These include the Language Line telephone interpreting service, and capability-building and advisory services to communities, including ethnic communities. Other services are the administration of community grants, including grants for settlement purposes to groups working with new migrants and refugees, and the National Library's public programme and services to schools.
The Department is currently in year three of the Community-led Development initiative, which supports more enduring outcomes for communities, hapū and iwi through longer-term, larger and more strategic investment. The approach focuses on communities as a whole rather than on a specific programme or activity, working in partnership with others, crossing sector and programme boundaries and investing funds at a systems level. The third stage of the evaluation of this initiative is due at the end of 2014, and following that decisions about the future of the initiative will be made.
In other areas the Department undertakes a range of regulatory activities which are aimed at maximising benefit and minimising harm to the community. The Department's work in the gambling area – regulating pokie machines, casinos and ensuring the distribution of profits for community benefit – along with its work targeting spam, anti-money laundering, identity theft and images of child sexual exploitation illustrate how the Department intervenes for the benefit of the wider community.
The Department is focused on enhancing trust and confidence in the charitable sector. We will better support charities with fit-for-purpose tools and integrated advisory support to build capability and connectivity in the sector. New reporting standards for charities will provide for a more robust regulatory framework and allow charities to better reflect their work. This enhanced reporting contributes to greater public trust and confidence in the sector with better data available and more transparency.
A significant focus of attention in the medium term will be the ongoing development of systems and tools to support the compliance and enforcement activities that are undertaken. This work will occur within the context of further establishing new ways of doing things, responding to increased demands for services and a need to be innovative in how we respond to regulatory activity across the Department and with external parties. There are several IT system projects underway which will underpin these changes including the Integrated Gambling Platform, the Anti-Money Laundering and Countering Financing of Terrorism system, the Spam Intelligence Database and the Investigation and Intelligence Management system.
The Department also plays a key role in fostering New Zealand's cultural identity. We play a role in supporting migrants and refugees to settle here, work with ethnic and other communities to foster participation in all aspects of society, grant citizenship, register births, deaths and relationships, verify New Zealanders' identity and are one of the main guardians of New Zealand's collective memory and knowledge.
More broadly, the Department is also working with other central government agencies and the local government sector to lift performance and responsiveness to the needs of citizens. This includes working together to meet community needs for economic growth; the upgrade, replacement and maintenance of significant infrastructure; and responding to changing demographics. A key initiative is the Department's work to encourage government agency responses to the Government Position Statement on Social Enterprise, including addressing barriers to the growth of social enterprise. This work, in conjunction with the provision of funding for a social enterprise accelerator pilot and national social enterprise incubation and development service, will build social enterprise capability and help social enterprises to scale-up and attract investment. This work also provides a focal point for addressing barriers such as social enterprises' need for developmental advice and obtaining funding tailored to their hybrid nature.
Through our leadership of Kia Tūtahi, the relationship accord between government and New Zealand's communities, we play a key role in encouraging more effective engagement between government agencies and communities to achieve outcomes. RealMe, developing libraries as digital hubs, and supporting digital literacy programmes, are good examples of how we are supporting communities to build their capability to interact with government in a world where services are increasingly 'digital by default'.
Our strategic focus
The Department has four areas of strategic focus over the medium term. These are the areas in which we will use our strengths, resources and leadership mandates to collectively achieve our outcomes and deliver on Government expectations.
Stronger and more resilient communities
As summarised above, much of what the Department does is aimed at supporting stronger and more resilient communities. The Department's strategic challenge is to look for ways of increasing its focus and improving its collaboration so that it can increase the impact that it has in supporting strong communities and positive social and economic outcomes.
The Department's on-going success relies on us understanding the key levers that the Department has to affect positive outcomes; the areas where there are opportunities to better coordinate services and share information; where efficiencies can be made or resources refocused; and where more needs to be done. Enabling communities to participate with confidence in, and contribute to, society and the economy is the key objective. In the medium-term we will identify our priorities for change which will enable us to add more value and better support strong and more resilient communities.
Transforming the way government agencies deliver their services
We will play a crucial role in transforming the way government services are delivered to people, leading an approach to service design that is user-centric and built to meet the needs of people rather than agencies. Our goal is that by 2017, New Zealand's public services will be radically transformed for the benefit of all New Zealanders, with ICT being the enabling tool that will make this possible.
Increased trust in how government manages New Zealand's civic information
Government has made clear its expectations that we will increasingly connect with citizens through digital channels. For us to be successful New Zealand will need to be comfortable with these channels, and choose to use them. Building trust in how we manage this information is therefore paramount. In a digital environment individuals will be able to access government services securely and in real time and businesses will be able to verify identity more easily. This will result in streamlined services, increased digital interaction with government and reduced compliance costs for businesses and their customers. The collective identity of the nation will be strengthened through better access to government data, by connecting people to information important to their lives and through careful preservation of digital content. Knowledge networks connect businesses, communities and individuals to enable better use of information research, knowledge creation, and to drive innovation in the economy.
Internal Affairs is a robust, sustainable and fit for purpose government agency
We will consolidate toward a more integrated and coordinated operating model, maximising our resources and skills whilst enhancing capability and supporting infrastructure to allow us to deliver on expectations. Government can be confident that we are a secure and sustainable organisation that can deliver essential services efficiently and effectively and that we can demonstrate leadership across the system.
These focus areas support our strategic direction by providing a framework to understand how to best use the Department's combined functions, mandate and resources to achieve outcomes. They support us to achieve our goals by providing a framework for collaborating and leveraging expertise internally, anticipating emerging challenges and opportunities, and finding innovative ways of achieving outcomes and contributing to government priorities. They also position us to respond to expectations to operate differently, including influencing change and taking a stronger leadership role across government. This will sharpen the focus of work programmes by better connecting core services, government expectations, new opportunities, and our long-term strategic direction.
As we change the way we work to deliver on new expectations, these focus areas will inform and guide priorities, resource allocation and capability building, and support more integrated planning as fiscal pressures increase.
Operating model
To deliver our strategic intentions we continue to work towards being a more integrated and collaborative organisation that effectively utilises all of our capability and functional expertise, supported by integrated, fit for purpose infrastructure that allows staff to do their job.
The Department's business units are structured into six branches, providing a functional and shared services approach to delivering outputs and services. Over the past year we have focused on developing this operating model by establishing the organisational environment – the capability, systems and culture – we need to support more integrated ways of working across the organisation, and more effective and efficient service delivery based on a better understanding of customers' needs.
Examples include implementing a new approach to regulatory functions and government information services, continuing a strategic partnership between Archives New Zealand and the National Library, and leveraging alignment between the Department's charities services, community operations and ethnic affairs to improve services.
This operating model is continuing to develop. In particular, we are committed to demonstrating the transformational changes we are leading across government. Over the medium term, we are transforming our own system of service delivery, optimising our mix of channels and moving from product-centric to citizen-centric delivery of core services. This will increase the online delivery of transactions such as passports and other identity products, and expand digital access to collections of information, freeing resources to deliver more complex services in person. These changes will influence the future structure of our organisation.
The Department is supported by shared corporate services, and is implementing arrangements with other agencies for delivering shared support services to improve collective efficiency. A key project is the shared financial management system arrangement with Inland Revenue.
Developing partnerships across government
Achieving government goals requires agencies to commit to developing the collaborative partnerships needed to deliver on transformation and integration.
The Department needs to be proactive in developing these partnerships. We are working increasingly closely with central agencies to develop the functional leadership role -particularly in regards to security and assurance – and ensuring that roles are coordinated across agencies. Strong relationships with local government, the private sector, community organisations and the public are also critical to understanding collective outcomes and improving services.
In addition to working closely with the Result 9 Programme (led by MBIE) to ensure strategy and delivery are aligned, we are working with various government agencies to develop and progress the Result 10 work programme.
A number of strategic partnerships across sectors are enhancing the Department's contribution to government goals over the medium term, including working with:
Inland Revenue on information sharing and financial services management
the Ministry for Culture and Heritage and other agencies to deliver WWI commemorative events, services and official visits
Serious Fraud Office and the Organised Financial Crime Agency of New Zealand to more effectively target serious wrong doing and harm in the gambling sector
New Zealand Police and New Zealand Customs to target the production and sharing of images of child sexual exploitation
the Ministry of Education to deliver the Network for Learning on the "Creating Readers" programme, and on school library development, contributing to Result 5 (improving educational outcomes)
public libraries to strengthen their relationship with government, including exploring how they can extend their work as community digital hubs to increase the accessibility of digital services.
Key medium term priorities
Over the medium term our key priorities will lead and support a lift in the performance of the public sector, including local government, to improve services to New Zealanders.
Functional Leadership of all-of-government ICT and assurance
ICT enablement is essential to delivering the Government's priorities for better public services. As the GCIO, the Department's Chief Executive has functional leadership responsibility for driving more effective use of technology and information management across government, through greater standardisation, integration and assurance.
Implementing the Government ICT Strategy and Action Plan is the key platform for achieving this change. Agreed by Cabinet in June 2013, the plan sets the work programme for integrating information, service delivery, technology and business processes to deliver better services for less. Through the Strategy and Action Plan the Department is seeking to deliver sustainable savings to government of $100 million by 2017.
System assurance underpins the Strategy and Action Plan. Public confidence in the secure and appropriate use of their information is fundamental to growing the use of digital services. The GCIO will coordinate the oversight and delivery of a coherent system-wide approach to ICT assurance, setting standards and supporting agencies to improve assurance processes. This may include intervening where necessary.
Our newly created Government Chief Privacy Officer (GCPO) function means that the Department will now have an important cross-government leadership role that will bring stronger oversight to the performance of agencies in fulfilling their privacy obligations. The GCIO review into recent privacy breaches showed this is an area that needs to be strengthened. The new GCPO function will operate under the mandate that the GCIO currently has. It will set standards, issue guidance and provide assurance to help departments fulfil their responsibilities.
Cultural change in the use of technology and management of information will be critical to transforming people's experience of government. Over the medium term, the GCIO will support better public services by lifting ICT capability, enhancing governance and decision making, and driving greater inter-agency collaboration. More strategic and coordinated information management will improve access to information and services to New Zealanders.
These changes will be centrally led and collaboratively delivered. The development of a comprehensive picture of government's ICT investment will provide useful information which we will use as a foundation for integrating and prioritising future investment across agencies and sectors. The GCIO will also provide oversight of the appointments to all key CIO roles across the State sector. A review of ICT governance arrangements will create a clear framework balancing the GCIO's oversight responsibilities and accountability of agency chief executives.
Delivering Better Public Services Result 10: New Zealanders can complete their transactions with government easily in a digital environment
The Department, along with the Minister of Internal Affairs, is responsible for the delivery of the Government's Better Public Services Result 10. Success will be measured by the following target: by 2017 an average of 70 per cent of New Zealanders' most common transactions with government will be completed in a digital environment.
Result 10 is a driver for wider public sector transformation, beyond achievement of the result measure. Initiatives will align digital services around the needs of customers, regardless of agency boundaries, and move high volume transactions of low and medium complexity into the digital space. This will improve customer experiences with government and enable frontline agency resources to be focused on more complex transactions that require personal interaction.
Result 10 is focused on making transacting with government both digital and easy, so that people choose to conduct simple transactions online. Although not an ICT project, Result 10 is intrinsically linked with the Department's intentions and responsibilities for functional leadership of ICT. A number of actions in the ICT Strategy and Action Plan are central to the delivery of Result 10.
To support this transformation a Blueprint for digital services to 2020 has been designed and agreed, including the key actions to deliver the digital vision for the future. These actions support the outcomes of the ICT Strategy and Action Plan. Agencies will be expected to align with the Blueprint, and it will be an important driver for transformation of the Department's own service delivery.
RealMe is New Zealand's official online identity verification service, enabling individuals to control their online identity and information, and making it more convenient to access online services provided by both public agencies and the private sector2. RealMe also enables participating agencies and businesses to conveniently receive proven identity information with the explicit consent of its owner.
Over the medium term, the Department will extend RealMe services as a critical enabler for people to interact more easily with government online, and the achievement of Results 9 and 10. This includes lifting uptake in the private sector, as a point of leverage for public sector agencies.
A core, common means of providing secure information online supports transformation in service delivery across government by reducing barriers to more coordinated use and investment in ICT to deliver services. The security and assurance offered by RealMe underpins public confidence in government information technology systems.
Benefits from improved user experiences and reductions in the duplication of identity verification services, online authentication and agency transaction costs, and identity crime are estimated at $511 million over ten years3.
Redeveloping the newzealand.govt.nz website is a key action within the ICT Strategy and Action Plan. This work will rationalise digital entry points and increase digital access to government information and services, and support the achievement of Results 9 and 10.
The redeveloped newzealand.govt.nz (rebranded govt.nz) will offer clear, concise information organised around user needs rather than the structure of government, simplifying the complex process of finding information on related topics that spans multiple agencies. In order to maximise effectiveness to customers and to mitigate the risks to the Department and Government, the site will meet online best practice operating guidance, including around accessibility, usability, cyber-security and business continuity.
Lifting the performance of local government
The Department has led the development and implementation of Government reforms to improve services to communities by lifting the performance of local government within tighter financial constraints.
As part of the second phase of the Better Local Government programme, provision has been made for wider use of Auckland-style local boards as part of local government reorganisations. There have also been improvements to the development contributions regime and to council planning, consultation, and decision-making processes, and other ways to improve efficiency.
Looking wider than the specific reforms, the Department plays a role, with other agencies, to improve the coherence of advice about local government. The policies and legislative programmes of many agencies impact on local government, so the aim is to better understand and manage the cumulative impact of central government policies. This includes identifying the best design and implementation processes to meet community needs efficiently.
It is important that we work smartly with local government on common objectives, and this requires a good working relationship, and a common understanding, of current and future challenges.
The Department is also supporting a working party's exploration into what would be needed for online voting to be introduced at the next round of local body elections, including a trial before 2016. Issues of cost, security of information and access have to be taken into account. Online voting would complement the investment in RealMe, which could enable secure authentication of a person's identity for online voting.
Measuring our performance
| Measure | Performance standard |
| --- | --- |
| Delivery of the ICT Strategy and Action Plan | By 30 June 2017 |
| The average rate of New Zealanders' most common transactions with government completed in a digital environment | 70% by 30 June 2017 |
Detailed information about our output performance measures is contained in the Estimates of Appropriation for Vote Internal Affairs.
Footnotes
[1] In this context, a 'common capability is defined as "any business or ICT capability that could be used by more than one agency, or across the whole of government".
[2] RealMe is made available to the private sector through the Department's partnership with NZ Post.
[3] These are gross benefits and do not take into account the costs incurred by public and private organisations to join RealMe.