Resource material › Corporate Publications › Annual Report 2012-13Pūrongo ā Tau
Overview of the year
On this page
This section provides an introduction to the Department and an overview of our achievements and challenges over the past year.
Chief Executive's Overview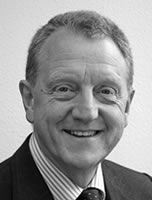 This has been an exciting and challenging year for the Department. We are making real progress in enhancing the collective impact of our functions and building a stronger agency that serves and connects people, communities and government to build a safe, prosperous and respected nation.
As an organisation, we achieve the best results when we work together. Continuing to strengthen engagement and culture within the Department has been a focus for our leadership team over the year. Following a series of organisation-wide discussions, we launched a refreshed set of behaviours and principles that encapsulate the pride and passion our people have for the work of Internal Affairs.
This work has been a priority because a shared sense of purpose gives us a strong foundation, as the Department fulfils its increased expectations in the delivery of better public services for New Zealanders.
More effective use of technology is a key factor in getting agencies to work together to deliver these services in ways that truly reflect what New Zealanders need.
During the year, Government increased our responsibilities for providing functional leadership of all-of-government ICT. This gives me, as the Government Chief Information Officer (GCIO), the tools to build momentum for the transformation of government services through better alignment of investment and the use of common capabilities across the state sector.
The GCIO role was tested through a requirement to review the publicly accessible systems of 70 government agencies. The review identified the need for stronger oversight and assurance as public service agencies operate in an increasingly digital environment.
Although the leadership responsibilities of the GCIO were extended, true transformation will be collaboratively delivered. This is one of the core principles of the Government ICT Strategy and Action Plan, launched in June 2013. This is a significant milestone for the Department. The Plan aims to drive greater collaboration between agencies, smarter management of our information and technology, more online services and better oversight of government ICT projects and operations.
Closely aligned with this work is our responsibility for Result 10 within the Government's Better Public Services programme. We have made good progress during the year towards our target of an average of 70 per cent of New Zealanders' most common transactions with government being completed in a digital environment. The collective efforts of the eight agencies participating in Result 10 have seen the average increase from 30.4 per cent in June 2012 to 37.3 per cent in June 2013. This is continuing to rise as agencies use the digital environment more effectively to provide services.
Although our work to support better public services across government has been a high priority, the past year has been characterised by a number of significant achievements in other areas of the Department's core business.
We launched the world's first online passports renewal service in November 2012. This has made renewing a passport easier, cheaper and more convenient, and within nine months over 100,000 New Zealanders used this service to renew their passport. This has been a fantastic example of improving service delivery by placing the customer's needs at the centre.
We also continued to enhance our igovt service, which provides a one-stop-shop for electronic identity verification, by expanding this service to the private sector. This is making it easier for people to access and use their personal information through a smart, secure, easy-to-use service for proving who they are to government or the private sector. This is being implemented through the introduction of RealMe, in partnership with New Zealand Post. RealMe was launched on 1 July 2013.
In November 2012 the building housing the National Library of New Zealand was reopened to the public, following a two-year redevelopment. New spaces within the building improve the preservation environment for our significant documentary heritage collections and allow people to connect with New Zealand's history in more modern, interactive ways. In the future this will include a single site within the building that brings together New Zealand's key foundational documents, including the Treaty of Waitangi.
As well as making it easier for New Zealanders to engage with their government and their history, we continued to work with communities to empower them and build resilience through our advisory, regulatory and funding roles.
At the start of the year we welcomed Charities Services into the Department, following the disestablishment of the Charities Commission. This transition has enabled us to make a number of improvements to services through strategic connections between our Charities Services, Community Operations, Regulatory Services and the Office of Ethnic Affairs.
The Ministry of Civil Defence and Emergency Management conducted the country's largest ever earthquake preparedness campaign, New Zealand ShakeOut, with great success. The six-month campaign culminated in a nationwide Drop, Cover and Hold drill at 9:26am on 26 September 2012. Over one million people – 30 per cent of the population – registered to participate in the event.
We also supported greater effectiveness and efficiency of local democracy. We continued to implement a series of reforms to improve the performance of the local government system through the Better Local Government programme. Stronger ties between central and local government are crucial to improving services and we have worked to increase opportunities for cross-sector engagement. We have also supported the Minister of Local Government to exercise greater flexibility to support local authorities in need of assistance.
Over the past year we have had notable success across the Department in delivering on the increased expectations of the public and government. This success is the result of the hard work, commitment and passion of our people. I would like to thank them for their efforts and I look forward to continuing to work with them to serve New Zealanders into the future.

Colin MacDonald
Chief Executive
September 2013
Nature and Scope of Functions
We serve and connect people, communities and government to build a safe, prosperous and respected nation.
The Department of Internal Affairs has a historically wide scope of functions and responsibilities that:
provide services and support directly to people and communities
provide services and support to government and public sector organisations.
Our responsibilities include:
providing strategy and support for all-of-government information and communications technology (ICT), and supporting our Chief Executive as the Government Chief Information Officer
implementing the Government's Better Public Services Result 10: New Zealanders can complete their transactions with the government easily in a digital environment
recording and managing New Zealanders' identity information
leading national civil defence emergency management across the 4R's: risk reduction, readiness, response and recovery
supporting and connecting communities with information, resources, advice and funding
supporting the effective operation of New Zealand's system of local government
regulating, encouraging compliance and enforcing the law for gambling, censorship, government recordkeeping, spam, anti-money laundering, and private security personnel
providing services to the charitable sector
building and preserving New Zealand's documentary heritage and public record
supporting the effective operation of government and the Executive, including managing Guest-of-Government visits to New Zealand, supporting Royal Commissions of Inquiry and monitoring Crown entities.
Ministerial portfolios
We provide services to Ministers in seven portfolio areas:
Internal Affairs (including responsibility for Archives New Zealand and the National Library of New Zealand)
Local Government
Ministerial Services
Ethnic Affairs
Racing
Civil Defence
Community and Voluntary Sector.
Summary of 2012/13 appropriations
In 2012/13 we managed departmental appropriations totalling $367.930 million within Vote Internal Affairs.
Departmental Appropriations by Portfolio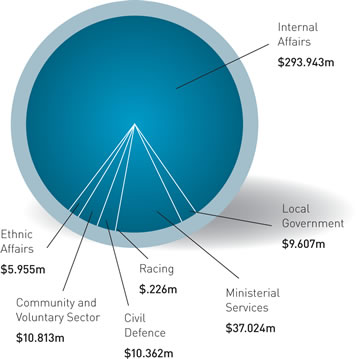 Larger version of image Long description