Births, deaths and marriages -
Whānautanga, matenga, mārenatanga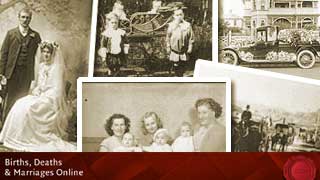 Trace your family history
New Zealand Government historical records for births, deaths and marriages are available to search online. Searches are free, and certificates can be ordered by using your credit card.
Births, Deaths and Marriages website outage 30th November 7:00am - 11:59pm
The Births, Deaths and Marriages website will be unavailable between 7:00am and 11:59pm NZST Sunday 30th November due to planned system maintenance. You may want to check back from time to time as you may be able to access the website earlier. We apologise for any inconvenience this may cause.