Part three - Managing the Department
In this section:
The Department aims to be a high-performing, trusted organisation working as one to maximise our outcome contribution for citizens, communities and government. The Department's capability to meet the needs of current and future governments is kept under constant review. We seek to maintain and develop a talented workforce that optimises its experience and expertise. We also strive to sustain excellent infrastructure, processes and policies.
The Development Goals for the State Services, updated by the State Services Commission (SSC) in November 2007, aim to create a world-class professional State service for New Zealand. They emphasise a culture of continuous learning, with organisations using technology to deliver coordinated, accessible and networked services for New Zealanders and value for money. During 2007/08, the Department has continued to further develop capability that supports a high-performing, trusted organisation.
Managing organisational change
During 2007/08, we continued to focus on implementing and consolidating changes to enhance the capability and capacity of the Department and ensure the changes deliver the benefits envisaged.
Organisational changes that have occurred during 2007/08 include:
the transition to a new centralised ICT structure to achieve full and comprehensive centralised management and oversight of the Information and Technology Group. This stage has involved approximately 120 staff and contractors
implementation of a new centralised finance structure
changes to the structure of the Gambling Compliance Group to achieve a unified approach to regulation and enforcement of casino and non-casino gambling and thereby improve our regulatory capability
the transfer of Local Government Services from the Regulation and Compliance Branch to the Local Government and Community Branch to provide better alignment and integration with the wider outcomes of the Department.
Further change for the Department was signalled in March 2008 when Cabinet agreed that the all-of-Government ICT operations should transfer to the Department from the State Services Commission (SSC). The transfer is proposed to take place in 2009/10 subject to funding. The SSC and the Department have commenced planning work to ensure a smooth transition. A joint progress report from the Department and SSC was provided to Cabinet in August 2008.
Developing Our People
Building a 'one organisation' culture
The Department maintains three workplace principles, which underpin the organisation and all of its activity. The organisation strives to incorporate these in its undertakings and staff are expected to uphold these in their day-to-day work.
Workplace principles

Workplace principles
We value people
We act with integrity
We provide outstanding service
The Department employs over 1,300 staff in order to deliver services as varied as developing emergency management policy to issuing passports or providing translation services for public agencies as well as administering the provisions of almost 100 pieces of legislation.
While the Department's staff work on many different tasks, it is important that they all identify with and understand how their work contributes to the outcomes of the organisation. The Department has continued to focus on and maintain momentum for this 'one organisation' approach during 2007/08. This has included regular messages from the Chief Executive on cross-organisational matters, the introduction of initiatives such as a Managers' Forum as well as implementing a project to better coordinate the planning and budgeting processes throughout the Department.
Throughout the year, other activities supporting the 'one organisation' culture have included:
celebrating the 100th anniversary of the Department's adoption of its current name
drawing resources from across the organisation to assist the Ministry of Civil Defence & Emergency Management with successfully running large-scale civil defence exercises
coordinating departmental arrangements and resources for Sir Edmund Hillary's funeral. This involved staff from across the Department working together in organising the funeral, providing transport for the large number of representatives from around the world and liaising with both local and international media to make sure their needs were met
Improving linkages and collaboration between gambling regulatory staff and staff working with communities and local government on local government/ community engagement and funding issues in relation to gambling.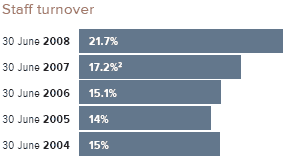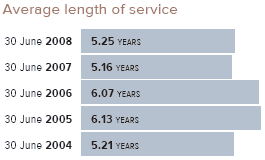 30 June 2008
30 June 2007
30 June 2006
30 June 2005
30 June 2004
21.7%
17.2%2
15.1%
14%
15%
Average length of service
30 June 2008
30 June 2007
30 June 2006
30 June 2005
30 June 2004
5.25 years
5.16 years
6.07 years
6.13 years
5.21 years
2 Since publication of the 2006–07 Annual Report, this figure has been updated to reflect staff turnover based on the correct methodology.
Developing leaders
The Department seeks to recruit and develop staff who will be capable managers and strategic thinkers, able to inspire their people to achieve desired outcomes. We have committed to investing time and resources into developing our people so that they possess the competencies required of leaders and managers. In this way, we hope to develop individuals who will become future leaders of the Department and the public sector.
In August 2006, the Department introduced a Management and Leadership Development Framework. This Framework identified four key groups – aspiring, new, existing and senior managers – and the development activities that would be made available to these groups. In 2006/07, a number of training and development initiatives were introduced for the new manager category. This year, the programme has been extended to offer specific training to aspiring and existing managers. For senior managers, the Department has subscribed to training offered by the Leadership Development Centre, which is a recognised training provider focused on increasing the public sector's leadership capability.
Since April 2008, monthly 'board meetings' of the Executive Leadership Team (ELT) have been introduced, as well as quarterly strategy sessions. These are intended to increase emphasis on leadership and focus ELT on high-level strategic issues. A regular Managers' Forum has also been set up as a key communication mechanism across the Department. At the first of these forums, which was held on 11 June 2008, the Chief Executive highlighted his expectations of leaders and key traits he wanted to see developed. In 2008/09, we will be aligning the Management and Leadership Development Framework with these essential leadership traits. Approximately 124 managers from across the Department attended the Managers' Forum and overall evaluation results showed that they were positive about all aspects. These forums will continue in 2008/09.
Building our people capability
In addition to developing our leaders, we are committed to ensuring we have a diverse range of staff who are capable and well equipped to fulfil the requirements of their positions. We have committed to developing existing employees with the skills and knowledge they need to grow professionally and contribute towards the Department's outcomes.
In 2007/08, we explored options for professional development, including graduate recruitment and intern/scholarship programmes. After considering research, best practice and the Department's situation, we decided to enhance development activity for existing staff. There will be a review of the People Strategy, which seeks to ensure that the different requirements of our employees, from graduates to mature workers, are met. The Strategy will be updated in 2008/09.
To help assess whether we are retaining our staff, we regularly monitor turnover and average length of service. Turnover has increased and this largely reflects the current employment market and the organisational change we have been through. During 2007/08 we have started to collect additional information on the reasons for people leaving which we will be using to inform our future recruitment and retention practices. In addition, on the basis of research establishing a link between the quality of the induction an employee receives and their engagement and productivity, we have implemented a post-induction survey to assess the quality of induction new employees are receiving, with results shared with managers.
Creating a high-performing, inclusive work environment
The Department seeks to ensure that its physical environment supports high-performance and, from 1 July 2007, was recognised with tertiary status from ACC's Workplace Safety Management Practices Programme. In addition, we aim to provide a family-friendly, flexible environment that attracts the capability needed, motivates people to contribute their best and recognises and makes best use of a diverse range of skills, knowledge and talents.
In 2007/08, to recognise the varying needs of our employees, the Department:
conducted a Pay and Employment Equity review, with results showing no major gender equality issues
investigated and developed a targeted employee well being programme which will be launched in September 2008
began to develop a Mature Workers Strategy, which seeks to ensure that the Department has the necessary policies and processes in place to retain mature workers. We will adopt and implement the Strategy in 2008/09.
In 2006/07, the Department conducted its first staff engagement survey to assess the overall health of the organisation. In 2007/08, we reviewed options for the format and delivery of the survey and, based on the results of this review, plan to conduct a second survey in March 2009.
The Department continues to undertake work to fulfil its responsibilities as a good employer and is guided by the New Zealand Public Service Equal Employment Opportunities policy document 'Equality and Diversity'. This work seeks to integrate equality and diversity throughout the organisation and recognises the importance of this for the future growth and performance of the Department. The Department continues to develop and support departmental policies and initiatives in relevant areas such as Effectiveness for Māori, Ethnic Responsiveness, Disability, Positive Ageing and Pacific Peoples as a means of strengthening equality and diversity across the organisation. In 2007/08, this work included support of the equal employment opportunities (EEO) network groups, introductory training in intercultural awareness and skills to support understanding and engagement with Māori.
Enhancing our information and communications technology capability
Information and technology (I&T) is fundamental to providing efficient and effective services that enable the Department to contribute to its outcomes The focus for 2007/08 was the continuing upgrade of the network, servers and databases, improvement of disaster recovery capability, and migration to a new email platform. Specific achievements included:
completion of the transfer to the new, centralised ICT structure
development and launch of a standard desktop for the entire Department
connection to the Government Shared Network – this has improved network performance and positioned the Department to more easily and securely connect to other government departments
completion of the Disaster Recovery project – core business applications for the Department such as the financial management system and human resource management system are now capable of full recovery in the event of a Wellington-based disaster or major outage.
The Department will continue to improve and review its I&T systems, with a view to reducing fragmentation, making better use of resources, improving skill levels and overall critical mass, and creating a stronger and more resilient Department. A review of the Department's Information Systems Strategic Plan is scheduled for 2008/09.
Strengthening risk management
As a large organisation, the Department faces a wide variety of risks in many areas. We have risk management policies and provide guidance material to all staff to help business groups identify and manage operational risks. All business areas regularly report on key risks to the Executive Leadership Team, who review the effectiveness of mitigation strategies and actions.
The Department is in the process of enhancing its security policies to lower the risk of security breaches and contribute to the Development Goal of strengthening trust in the State services. During 2007/08, work has been undertaken on implementing revised security policies and strengthening the Risk Management Framework to reflect this.
This work has included:
establishment of a Security Advisory Group to offer a business perspective on security impacts and provide advice on particular security-related issues that fall outside operating guidelines and processes
incorporation of security awareness content into all I&T training modules
strengthening of policies in physical and personnel security
implementation of a number of operational processes and procedural improvements.
Enhancing our procurement procedures
The Department has been working to enhance its procurement procedures, including the use of technology, to streamline processes to deliver efficiencies back to the Department. The following activities were progressed during the year:
the Updated Procurement Policy (including key documents and policy and procedures) has been made available to staff through the Intranet
improvements to the management of Purchase Cards, including the development of a purchase card policy
launch of an electronic invoice processing and approval system, which has resulted in greater transparency of transactions and more timely payment of invoices. Further improvements are expected in 2008/09 as the remaining elements of the project are implemented
work continued on preferred supplier arrangements for the provision of print services and departmental vehicles.
The Department is committed to aligning its procurement procedures with the Government's Govt3 sustainability practices. The Govt3 Sustainability Action Plan for the Department and the Carbon Neutral Public Sector (CNPS) report have been published, with targets in the report period all being met. Further information on the Department's sustainability programme can be found in the section below.
Reviewing our property strategy
Work continues on the implementation of a medium-term property strategy to support our vision of 'one organisation' and provide us with accommodation options to meet current and anticipated business needs as building leases expire in 2010/11.
Over the past year, work focused on finalising short-term accommodation requirements resulting from the recent centralisation of the ICT and Finance functions. Long term we have started to identify options for accommodating the all-of-Government ICT operations, which are due to transfer from the State Services Commission to the Department in 2009/10.
Sustainability
The Department is one of 28 public service agencies committed to carbon neutrality by 2012.
During the 2007/08 financial year, the Department published its Emission Inventory Report for the previous period on its website, and developed and published its Carbon Neutral Public Service Programme (CNPS) Reduction Plan, which aligns Departmental initiatives in the CNPS and Govt3 areas. The Reduction Plan identified areas that present opportunity for the Department to improve its sustainability business practices in a comprehensive and cost-effective manner. These areas are summarised in the following table:
Government directive

The Department's focus

Enhanced, sustainable government procurement

Sustainable procurement of office consumables and equipment

Towards a carbon neutral public service

Sustainable buildings

Vehicles and travel

Greenhouse gas emission reduction

Waste minimisation and management

Recycling and waste minimisation
To give effect to these, the Department developed a Sustainability Action Plan. Over the past year we have implemented the following activities from the Plan:
formation of a 'Green Team' of volunteers to promote the sustainability message and to help implement and improve the Action Plan
a Level Two energy audit of the Department's Waring-Taylor Street building
a waste audit of the Department's Waring-Taylor Street building, which was completed in early July 2008.
Lessons from these audits will be applied across the Department in the next reporting year. Some Auckland and Wellington offices began recycling initiatives, and these will be expanded upon and rolled out across the Department during 2008/09.
The Department of Internal Affairs – Te Tari Taiwhenua – is the oldest government department and traces its history back to the structures put in place immediately after the signing of the Treaty of Waitangi.
The Department has over 1,300 staff providing a range of services supporting citizens, communities and government. We deliver services from 21 cities and towns throughout New Zealand, plus small offices in Sydney and London.
We provide policy advice to our Ministers in the areas of local government, community and voluntary sector issues, ethnic affairs, civil defence and emergency management, gambling, racing, fire, identity, public inquiries, daylight saving and censorship. We also advise a number of other Ministers as the need arises. The Department administers around 90 Acts and Regulations.
The Department delivers its services through eight business groups. The general managers of these report directly to Brendan Boyle as Chief Executive, and are responsible for managing their respective areas and delivering agreed outputs with Ministers. In addition, they form part of the Executive Leadership Team, whose role is to provide direction and leadership to the Department. A brief description of the operations, roles and responsibilities of each business group follows.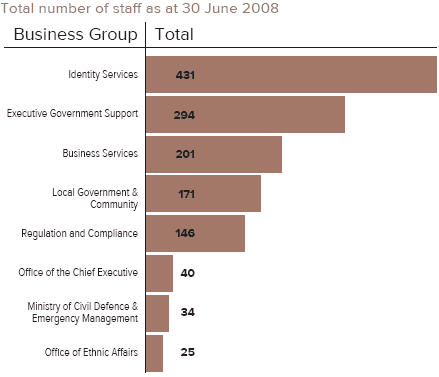 Total number of staff as at 30 June 2008
Identity Services
Executive Government Support
Business Services
Local Government & Community
Regulation and Compliance
Office of the Chief Executive
Ministry of Civil Defence & Emergency Management
Office of Ethnic Affairs
431
294
201
171
146
40
34
25
Identity Services
General Manager: Annette Offenberger
Identity Services is the trusted 'kaitiaki' of New Zealanders' identity information. It is responsible for the creation, stewardship and integrity of records of, or relating to, New Zealanders' identity. In addition, Identity Services provides leadership in identity across government to ensure New Zealand's approach to identity is trusted and well led. It registers birth, death, civil union and marriage details, issues passports and manages citizenship applications. Identity Services is the custodian of the Evidence of Identity Standard for the State sector, is the lead agency in the development of the Identity Assurance Framework, is leading the 'Identity at the Border' workstream, which is part of the Border Sector Initiative, and is leading the Cross Government Biometrics Group. Identity Services is also working on the All-of-Government Authentication Programme, led by the State Services Commission, to develop the Identity Verification Service.
Executive Government Support
General Manager: Janice Calvert
Executive Government Support (EGS) supports the efficient operation and continuity of Executive Government by providing Ministers with a range of services including residential accommodation, transport services, advice and administrative support for their ministerial offices. Through the facilitation of guest-of-Government visits and ceremonial events, EGS contributes to the development of New Zealand's international connections and a public understanding of our culture and heritage. It provides a translation service that is available to government and the general public, publishes the New Zealand Gazette, provides authentication of official documents and administers the Gambling Commission. It also sets up and administers commissions of inquiry and other ad hoc bodies, ensuring these are established quickly and efficiently when required.
Local Government and Community
Deputy Secretary: Anne Carter
Local Government and Community promotes the building of strong communities and supports the local government system by providing community advisory and local government interface services and information to the public, including administering CommunityNet Aotearoa. It administers lottery grants, Crown-funded schemes such as the Community Organisation Grants Scheme, and a range of other grants and trusts that develop community capacity to address local issues. The Branch provides policy advice on local government and community and voluntary sector issues, and administers an array of local government legislation.
Regulation and Compliance
Deputy Secretary: Keith Manch
The Regulation and Compliance Branch integrates regulatory policy and operational activities that help to ensure safer communities, contributes to building strong, sustainable communities/hapū/iwi, and promotes trust in the integrity of New Zealand's records of identity. Key areas of focus include providing policy advice on gambling, racing, censorship, civil defence and emergency management, fire, identity, public inquiries and daylight saving. The Branch has operational responsibilities for gambling, censorship and the sending of unsolicited electronic messages (spam). This involves licensing gambling activities, inspecting and monitoring gambling venues, monitoring the sending of spam, the possession and supply of objectionable material and the public display of publications. The Branch assists Ministers with making appointments to the boards of three Crown entities, twelve community trusts and other statutory bodies and monitors the performance of these Crown entities on behalf of Ministers. It also provides administrative support for the Local Government Commission, and is responsible for the Rates Rebate Scheme and the Department's local government regulatory responsibilities, which all transferred to Local Government and Community on 1 July 2008.
Ministry of Civil Defence & Emergency Management
Director: John Hamilton
The Ministry of Civil Defence & Emergency Management (MCDEM) provides operational advice to the Government on civil defence and emergency management (CDEM). It provides leadership on the strategic direction for CDEM in New Zealand through the development of an integrated, risk-based approach. This includes working with stakeholders, including CDEM Groups and government agencies, to address the '4Rs' of reduction, readiness, response and recovery. MCDEM also coordinates the civil defence and emergency management of response during states of national emergency and supports disaster management at the local level.
Office of Ethnic Affairs
Director: Mervin Singham
The Office of Ethnic Affairs (OEA) is the Government's primary advisor on issues affecting ethnic New Zealanders. Its purpose is to contribute to a strong, self-directed ethnic sector by promoting the advantages of ethnic diversity in New Zealand. OEA supports ethnic communities to participate in civil society through providing information and advice and facilitating forums where issues can be raised and solutions discussed. OEA also provides policy advice and training to government agencies on diversity and intercultural awareness, and manages the telephone interpreting service, Language Line.
Business Services
Director: Norah Familton
The Business Services Branch provides a range of corporate services and support to the operational business groups, enabling them to excel in their areas of expertise. The range of services provided includes finance, procurement, strategic human resources, strategic communications, information and communications technology, research and evaluation, and property.
Office of the Chief Executive
Acting Director: Morag Woodley
The Office of the Chief Executive provides advisory and project support to the Chief Executive, the Executive Leadership Team and operational business groups. The range of services includes strategic development and planning, ministerial advice and support, risk and audit, project management, legal services, and effectiveness for Māori.
Governance
As at 30 June 2008
The Department is responsible to six Ministers administering six Votes. The Minister of Internal Affairs is the Minister Responsible for the Department. The Department monitors the performance of two Crown entities under the Internal Affairs portfolio, and one Crown entity under the Community and Voluntary Sector portfolio.
Hon Rick Barker

Votes

Internal Affairs; Emergency Management

Portfolios

Minister of Internal Affairs

Minister of Civil Defence

Minister Responsible for the Department
of Internal Affairs

Crown entities

New Zealand Fire Service Commission

Office of Film and Literature Classification

Rt Hon Helen Clark

Vote

Ministerial Services

Portfolio

Minister Responsible for Ministerial Services

Hon Nanaia Mahuta

Vote

Local Government

Portfolio

Minister of Local Government

Hon Chris Carter

Portfolio

Minister for Ethnic Affairs

Hon Ruth Dyson

Vote

Community and Voluntary Sector

Portfolio

Minister for the Community and Voluntary Sector

Crown entity

Charities Commission

Rt Hon Winston Peters

Vote

Racing

Portfolio

Minister for Racing
The Department also works with various portfolio-related statutory bodies, trusts and committees (for example, the Lottery Grants Board), providing them with administrative support and managing the appointments process. We also manage the appointments process for the 12 community trusts (Responsible Minister: Minister of Finance), the Peace and Disarmament Education Trust, and the Pacific Development and Conservation Trust (Responsible Minister: Minister for Disarmament and Arms Control).
Legislation We Administer
As at 30 June 2008, the following is a list of legislation we administer, classified by Vote.
Internal Affairs
Births, Deaths, and Marriages Registration Act 1995
Births, Deaths, and Marriages Registration (Fees) Regulations 1995
Births, Deaths, and Marriages Registration (Prescribed Information and Forms) Regulations 1995
Boxing and Wrestling Act 1981
Citizenship Act 1977
Citizenship Regulations 2002
Citizenship (Western Samoa) Act 1982
Civil Union (Prescribed Information, Fees, and Forms) Regulations 2005*
Commissions of Inquiry Act 1908
Commonwealth Games Symbol Protection Act 1974
Fire Safety and Evacuation of Buildings Regulations 2006
Fire Service Act 1975
Fire Service Levy Order 1993
Fire Service Regulations 2003
Forest and Rural Fires Act 1977
Forest and Rural Fires Regulations 2005
Gambling Act 2003
Gambling (Class 4 Banking) Regulations 2006
Gambling (Class 4 Net Proceeds) Regulations 2004
Gambling (Fees) Regulations 2007
Gambling (Forms) Regulations 2004
Gambling (Harm Prevention and Minimisation) Regulations 2004
Gambling (Infringement Notices) Regulations 2004
Gambling (Licensed Promoters) Regulations 2005
Gambling (Problem Gambling Levy) Regulations 2007
Gambling (Prohibited Property) Regulations 2005
Human Assisted Reproductive Technology (Fees) Regulations 2005*
Marriage (Fees) Regulations 1995*
Marriage (Forms) Regulations 1995*
New Zealand Daylight Time Order 2007
New Zealand Fire Brigades Long Service and Good Conduct Medal (1981) (Royal Warrant)
Official Appointments and Documents Act 1919
Passport (Fees) Regulations 1996
Passports Act 1992
Queen's Fire Service Medal Regulations 1955 (Royal Warrant)
Royal Titles Act 1974
Rural Fire Fighting Fund Regulations 1992
Seal of New Zealand Act 1977
Seal of New Zealand Proclamation 1977
Time Act 1974
Emergency Management
Civil Defence Emergency Management Act 2002
Civil Defence Emergency Management Regulations 2003
National Civil Defence Emergency Management Plan Order 2005
Local Government
Bylaws Act 1910
Bylaws Regulations 1968
Chatham Islands Council Act 1995
Counties Insurance Empowering Act 1941
Dog Control Act 1996
Dog Control (Microchip Transponder) Regulations 2005
Dog Control (National Dog Control Information Database Levy) Order 2006
Dog Control (Prescribed Forms) Regulations 1996
Impounding Act 1955
Impounding Regulations 1981
Lake Taupo (Crown Facilities, Permits and Fees) Regulations 2004
Land Drainage Act 1908
Libraries and Mechanics' Institutes Act 1908
Litter Act 1979
Local Authorities (Members' Interests) Act 1968
Local Authority Reorganisation (Property Transfers) Act 1990
Local Electoral Act 2001
Local Electoral Regulations 2001
Local Government Act 1974
Local Government Act 2002
Local Government (Infringement Fees for Offences: Navigation Safety Bylaws) Regulations (Various) 2002–2008
Local Government Official Information and Meetings Act 1987
Local Government (Rating) Act 2002
Local Government (Watercare Services Limited) Order 2007
Local Legislation Acts 1926-1992
Municipal Insurance Act 1960
Public Authorities (Party Wall) Empowering Act 1919
Public Bodies Contracts Act 1959
Public Bodies Leases Act 1969
Rangitaiki Land Drainage Act 1956
Rates Rebate Act 1973
Rates Rebates Order 2006
Rating (Fees) Regulations 1997
River Boards Act 1908
Waimakariri-Ashley Water Supply Act 1961
Community and Voluntary Sector
Charities Act 2005
Charities (Fees, Forms, and Other Matters) Regulations 2006
Community Trusts Act 1999
Community Trusts (Fees) Regulations 2000
Trustee Banks Restructuring Act Repeal Act 1999
Winston Churchill Memorial Trust Act 1965
Racing
Racing Act 2003
Racing (Harm Prevention and Minimisation) Regulations 2004
Ministerial Services
Executive Travel, Accommodation, Attendance, and Communications Services Determination 2003**
* Regulations made under legislation administered by the Ministry of Justice.
** Regulations made under legislation administered by the Department of the Prime Minister and Cabinet.
Part three - Managing the Department